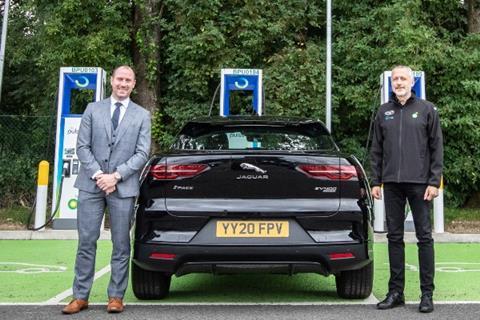 BP Pulse has installed two new ultra-fast charging sites at Harthill services on the M8 motorway in Scotland.
Situated off the east-and west-bound carriageways near Harthill, Lanarkshire, the sites feature ten 150kW chargers servicing the Edinburgh to Glasgow corridor.
Each 150kW charger is equipped with the two types of rapid charging connectors that EVs use (CCS) and (CHAdeMO) to provide widespread compatibility.
Charging sessions are accessible with a BP Pulse subscription and EV drivers can use pay-as-you-go charging using a contactless debit or credit card with no registration required.
The site also features an M&S Simply Food store and a BP Wild Bean Café. BP Pulse expects the ultra-fast chargers to power one million miles of EV motoring in their first year.
Rob Chadwick, BP EV operations lead, UK said: "BP Pulse is making sure motorists across Scotland and the UK have easy access to the fastest, most convenient and most reliable charging. Seventy-five thousand motorists currently travel along the busy route served by Harthill. This investment by BP Pulse reflects our commitment to helping these motorists build their confidence in charging infrastructure as many make the switch to an EV."
Transport minister Graeme Dey commented: "Positioned between Scotland's two largest cities, the new ultra-fast 150kW chargers from BP Pulse are a welcome addition to Harthill services.
"This investment from BP Pulse will provide even more charging options for EV drivers in Scotland.
"To support our world leading net zero targets, we are committed to phasing out the need for new petrol and diesel cars and vans by 2030. This latest installation by BP Pulse supports that ambition and I'm sure EV drivers will join me in welcoming the convenience that these new ultra-fast chargers offer."
Neil Gray, MSP for Airdrie & Shotts, added: "I'm thrilled to see one of the UK's first ultra-fast motorway charging sites right here in Airdrie & Shotts. The M8 between Scotland's two biggest cities is a vital economic corridor and supports many businesses in the constituency. I'm delighted that we're investing and leading electric vehicle charging for Scotland."
"As we work to our ambitious net zero targets, investment in electric vehicle infrastructure is going to be so important in cutting emissions."
The hub opening forms part of BP's broader strategy to invest in low-carbon solutions for Scotland's energy future which includes a bid in the ScotWind offshore leasing round. It also follows BP Pulse's recent announcement that it will roll out dedicated ultra-fast charging hubs across the UK, with the first purpose-built charging and convenience hub set to open later this year.
BP Pulse's growth targets are for the network to double in size to 16,000 charge points by 2030.