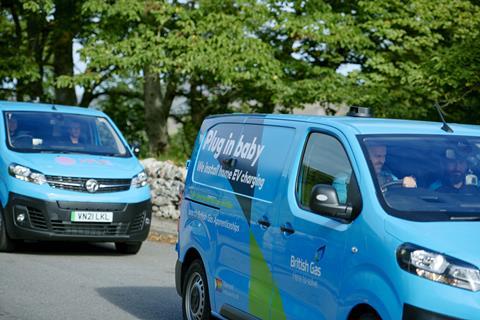 British Gas is taking on 3,500 new apprentices who will be trained to install and maintain carbon-efficient technologies, including EV charging points.
Steve Winter, head of fleet at British Gas, said: "We know there will need to be at least 2.3 million charging points nationwide before the end of the decade, equating to more than 700 chargers installed every day until 2030. That's why engineers with green skills will be urgently required across the country."
The company marked the announcement with a drive from John O'Groats to Land's End by two of the 3,000 Vauxhall Vivaro-e vehicles British Gas has purchased over the last two years – the largest ever EV order for a commercial fleet in the UK.
The vehicles are fully fleet managed by Hitachi Capital Vehicle Solutions (HCVS), which has partnered with British Gas on its decarbonisation and sustainability objectives to transition the 12,000-strong British Gas fleet to electric by 2025.
The partnership includes home charging installation for all British Gas engineers with EVs, as part of HCVS' commitment to helping fleets undertake a full or partial transition to EVs.
The twin aims of the drive from John O'Groats to Land's End is to publicise the apprenticeship scheme and to educate and drive EV adoption across its engineer base, demonstrating the ease and availability of charging along the 600-mile journey.
Winter added: "Our UK charging infrastructure is constantly expanding, especially through London and the South East where almost half of UK charging points are located. We want to help showcase what it's really like to plan routes, drive and charge an EV, helping to overcome range anxiety and empower our people to get behind our journey to net zero."