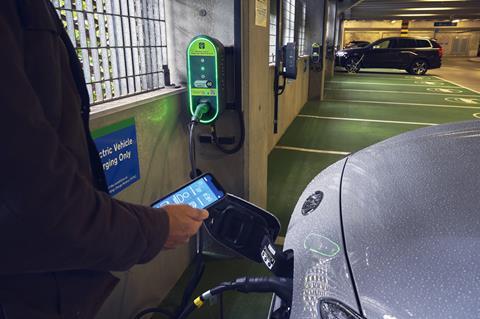 The 450th charging point at Network Rail customer car parks has been installed by Compleo Charging Solutions UK, a provider of turnkey electric Vehicle charging hardware and software solutions.
The fast-charging, three-phase 22kW AC units are live at Leeds, Manchester Piccadilly and Reading stations and installations are being extended to Edinburgh Waverley, Welwyn Garden City and Birmingham New Street.
The contract is being managed by E.ON, to which Compleo is the technology provider. The project will provide a total of 833 EV chargers on completion.
Compleo is delivering the charging hardware and management software, while supporting Network Rail with every aspect of the UK-wide project on the ground, including site surveys, installation, project management and ongoing maintenance.
The rollout of the current 450 EV charger network enables users of Network Rail car parks to take advantage of a new parking solution that combines their parking and EV charging costs within a single fee (roll out varies across car parks). The service is also available to Blue Badge holders as Compleo's chargers have been installed in disabled parking bays.
To create this new and hassle-free service, Compleo has worked closely with APCOA – the company that operates Network Rail's car parks – to integrate its chargers into APCOA's Connect App, enabling easy payment and charging authentication.
"We're incredibly proud to have been chosen to deliver this project and to have installed an extensive network of 450 fast chargers so far," Compleo UK managing director Valentin Scheltow said.
"This is an ongoing partnership that will bring an additional 383 fast-chargers to the UK and is set up to give EV-driving car park users a great experience.
"Not only have we developed a bespoke parking solution that includes charging via a single payment, but we've also installed so many chargers that anyone using the six Network Rail car parks can be confident they'll have access to a charger when needed."
Richard Spencer, head of technical services and operations at E.ON said: "The quantity of charging points within the scope of this project is vast, so it's been crucial to work with a hardware and software technology provider that offers smart solutions and knows how to deliver at scale and with maximum efficiency.
"Compleo Charging Solutions UK has provided reliable charging and software that makes it easy for our customers to use and we know Network Rail is receiving a reliable, state-of-the-art charging solution that it can be proud of."