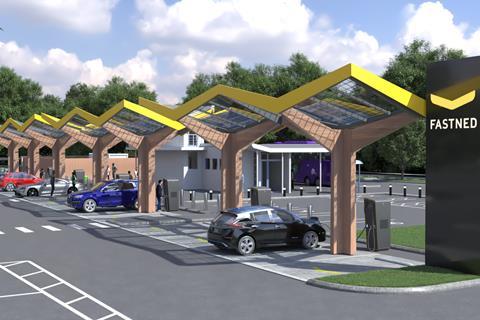 Europe's most powerful EV charging Superhub is set to be developed in Oxford, according to the partners behind the scheme.
UK-based Pivot Power, part of EDF Renewables, and Oxford City Council have joined up with Fastned, the European electric vehicle (EV) fast charging company, Tesla Superchargers and Wenea, one of the largest EV charging services providers in Europe, to deliver the project.
The hub, initially featuring 38 fast and ultra-rapid chargers in a single site, will have up to 10MW of power available on site, and will scale up to help meet demand for EV charging in the area for the next 30 years.
It is the first of up to 40 similar sites planned across the UK to help deliver charging infrastructure needed for the estimated 36 million EVs by 2040.
The site, at Redbridge Park & Ride, is directly connected to the high voltage national electricity grid, to provide the power needed without putting strain on the local electricity network or requiring costly upgrades.
This network, developed by Pivot Power, has capacity to expand to key locations throughout Oxford to meet mass EV charging needs, from buses and taxis to commercial fleets.
Fastned will initially install 10 chargers at the Superhub with 300kW of power, capable of adding 300 miles of range in just 20 minutes. The station will be powered by 100% renewable energy, partly generated by the company's solar roof, and all makes and models of EVs will be able to charge at the highest rates possible simultaneously.
It will be one of the largest charging stations in the company's pan-European network, where up to 14 EVs can charge simultaneously. Fastned currently has over 135 charging stations across the Netherlands, Germany, Belgium, Switzerland and the UK, and recently raised €150m to accelerate the growth of its network. Fastned has the goal to build a network of 1,000 fast charging stations across Europe by 2025. .
Michiel Langezaal, CEO of Fastned, said: "Our mission is to accelerate the transition towards electric mobility by giving freedom to electric drivers. EV drivers experience this freedom when they know that fast and convenient charging is omnipresent. The Oxford Superhub is a great milestone towards that goal. We need hundreds more and will therefore continue to engage with landowners and partners such as Pivot Power across the UK. Big stations are the only way to provide charging capacity to the exponentially growing number of EVs coming to our roads."
Gamma Energy Ltd through Wenea, one of the largest EV charging services providers in Europe, will deploy 16 7-22kW charging points. Currently in Spain, Wenea owns more than 170 fast and rapid chargers and recently secured a €100m financing line to deliver an additional 470 rapid chargers over the next two years. A further 12 250kW Tesla Superchargers will be available for Tesla owners.
Any EV will be able to use the site, with chargers open 24/7 and only requiring a simple contactless payment. An on-site café is planned where drivers can buy drinks and snacks, ensuring the charging process is as convenient as possible.
The announcement is a key milestone in the completion of Energy Superhub Oxford (ESO), due to open in the final quarter of this year, and comes as Oxford is set to launch the UK's first Zero Emission Zone this August, where vehicles are charged based on their emissions, with EVs allowed to use the zone for free.
The £41m world-first project, led by Pivot Power, integrates EV charging, battery storage, low carbon heating and smart energy management technologies to support Oxford to be zero carbon by 2040 or earlier.
It is claimed ESO will save 10,000 tonnes of CO2 every year once opened, equivalent to taking over 2,000 cars off the road, increasing to 25,000 tonnes by 2032.
Matt Allen, CEO at Pivot Power, said: "Our goal is to help the UK accelerate net zero by delivering power where it is needed to support the EV and renewable energy revolution. Oxford is one of 40 sites we are developing across the UK, combining up to 2GW of battery storage with high volume power connections for mass EV charging. Energy Superhub Oxford supports EDF's plan to become Europe's leading e-mobility energy company by 2023, and is a blueprint we want to replicate right across the country, working hand in hand with local communities to create cleaner, more sustainable cities where people want to live and work."
Councillor Tom Hayes, cabinet member for green transport and zero carbon Oxford at Oxford City Council, added: "For Oxford to go zero carbon by 2040, we need to electrify a lot more of our transportation. As an innovative city embracing technologies and change, Oxford is the natural home for the UK's largest public EV charging hub. We are excited to be taking a major step forward in the completion of Energy Superhub Oxford, working closely and superbly with our private sector partners. As an ambitious city, we are excited about the prospect of further innovation and investments, building upon our record of transformational public and private sector delivery."
To accelerate delivery of ESO, the government has contributed £10m to the project via UKRI's Prospering from the Energy Revolution programme.
Rob Saunders, Challenge Director, Prospering from the Energy Revolution, UKRI, said: "Forward-thinking innovation in the energy space is key not only to change current energy use, but to plan for societies and industries that prosper in the future. The combination of benefits this project delivers – from storage and AI-powered flexibility services, to greener heating and vehicle charging – are exactly the kind of multipurpose solution that will help drive the UK forward as a leading net zero innovator. The Energy Superhub is also a great demonstration of what can be achieved with a commitment to collaboration, and bringing together different areas of expertise to tackle key issues for our energy future."