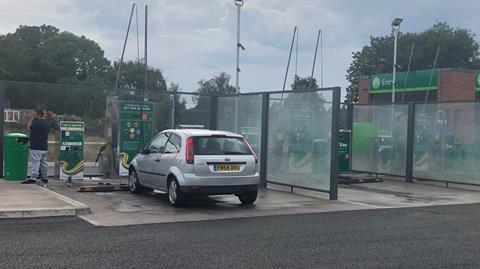 The Car Wash Association (CWA) has welcomed a letter from a minister at the Department for Business, Energy & Industrial Strategy (BEIS) confirming that jet wash facilities where the driver carries out the wash can operate under the current lockdown restrictions.
The CWA has been challenging guidance that was issued in January that while automatic roll-over and conveyor car washes were allowed to operate, self-service jet washes must close.
This advice, which originated from the Department of Health, was a reversal of the policy during the first lockdown when BEIS said all automatic car washes, including self-service ones, could remain open.
The new confirmation was in a letter from Amanda Solloway, minister for science, research and innovation at BEIS, to Victoria Prentis, a minister at the Department for Environment, Food and Rural Affairs (Defra).
Prentis has taken up the case of a constituent who had been forced to close jet wash facilities on his forecourt by his local authority. In her reply, dated March 15, Solloway said "jet wash facilities where the driver performs the car wash themselves" can continue to operate.
CWA chairman Brian Madderson welcomed the confirmation from the minister. He described the guidance issued in January as "nonsense", pointing out that drivers were allowed to operate other self-service equipment on forecourts such as fuel pumps, ATMs and coffee machines.
In a legal challenge to the guidance CWA also highlighted that gloves were available for users, jet washes operate in bays and users could wear masks.
He said that around two thirds of local authorities had not acted on the guidance from January, some after representations from CWA on members' behalf, but this still meant about one third of jet washes had been forced to close.
Since the letter was publicised all but one local authority had allowed jet washes to reopen, with the CWA persuading them that the minister's letter superseded previous advice, but one was insisting it would wait for fresh guidance.
Madderson described the development as "fantastic news for essential services", explaining that many police and ambulance services have accounts at local forecourts to use jet washes, because the equipment on their vehicles means they cannot use other automatic washes.