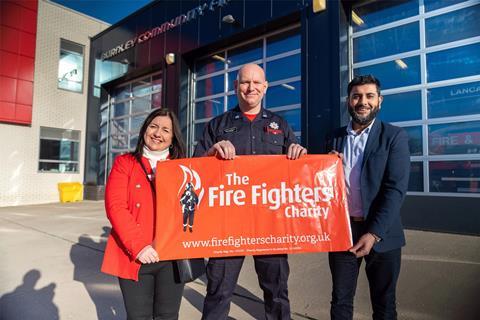 A national partnership between EG Group and The Fire Fighters Charity has developed after an individual firefighter contacted the forecourt group seeking sponsorship during the lockdown.
Lancashire Fire and Rescue Service firefighter Matt Pendlebury approached EG Group for a donation towards his London Marathon fundraising drive.
Taking on the London Marathon in 2021, the firefighter turned to potential corporate supporters after the pandemic made it difficult to fundraise in more traditional ways. However, it wasn't until he popped in to buy a coffee that he first thought of approaching EG Group.
Matt explained: "I went into an EG Group fuel station with an adjoining Starbucks. This was during major lockdown and they'd put a sign up saying 'EG would like to thank all blue light services by offering a free coffee.'
"It twigged straight away. I ended up sending off an email and one morning I got up, looked at my phone, and I'd got an email asking me to contact them ASAP."
Matt was put through to EG Foundation which told him that they would love to work with the UK fire services community and would be happy to sponsor his entire marathon – donating £2,000 through Matt's fundraising page.
However, the support didn't stop there. Matt said: "I thought it was a case of, there's your money and off you go, but it was far from it. EG Group wanted to support me further and get involved. They then confirmed that The Fire Fighters Charity would be EG Group's chosen charity for the start of 2022."
For the first four months of 2022, EG Group will now not only collect donations on behalf of the charity, but will also promote its work across its UK network of forecourt and food service locations.
Ruth Powell, director of engagement and fundraising for the The Fire Fighters Charity, added: "We are so grateful to Matt for making the connection with EG Group. He was determined to raise the funds and now we are in a corporate partnership that will raise huge sums over the coming months, all in support of the UK's fire services community."