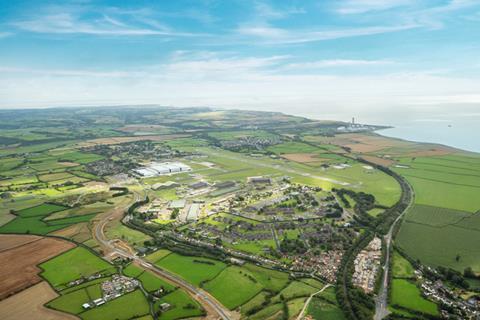 Plans to build a plant for producing electric car batteries in Wales are a step closer, the firm behind the proposals has said.
Britishvolt had also been considering a Coventry site but said it had signed a memorandum of understanding (MOU) with the Welsh Government to build the factory in St Athan, Vale of Glamorgan.
Bro Tathan, a former Ministry of Defence site now owned by the Welsh Government, is already home to an Aston Martin electric car plant, which produced its first vehicle last week.
Britishvolt said its scheme could create up to 3,500 jobs and lead to £1.2bn of investment. The development would also include a solar farm to generate electricity.
First Minister Mark Drakeford said the MOU was an "important next step ahead". He told BBC Radio Wales Breakfast: "It doesn't mean to say it is in the bag.
"There are important things still to do, including convincing the UK government to provide funding through its automotive transformation fund, but it is an important step on the journey and we are very encouraged by it."
Orral Nadjari, CEO and founder of Britishvolt, commented: "We are immensely proud to announce plans to work exclusively with the Welsh Government to develop the UK's landmark battery gigaplant."
He said the plant would encourage other businesses to invest in the region with the aim of creating a 'hub' of battery electrification.
He added: "The construction of the solar farm will not only ensure our gigaplant has a near carbon neutral electricity input – complementing our goal of becoming one of the greenest battery producers worldwide – but also provide cleaner energy to the local area."
Nadjari said the company wants to begin construction in the spring of 2021 with the plant fully operational by the middle of 2023.