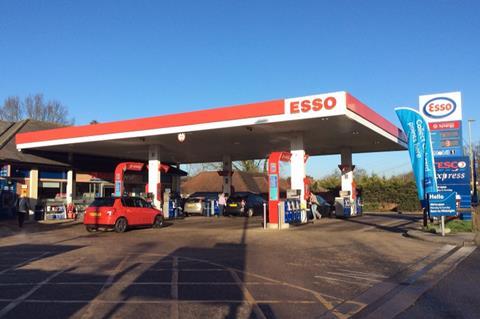 Esso Petroleum has applied for planning permission revamp its petrol filling station at Fair Oak in Eastleigh, Hampshire.
In a design and access statement supporting the application, Bowman Riley Architects explains that the plans involve replacement of existing fuel tanks, fills, pipework and the forecourt surface. It also proposes minor changes to parking, replacing the canopy with a higher version and new signage.
It is seeking to replace existing single skinned fuel tanks with new double-skinned tanks and pipework together with a new wetstock management system.
Unleaded petrol and diesel will be stored in two underground tanks each with a volume of 60,000 litres.
The forecourt canopy with be replaced with a new higher one giving a clearance of 5.2m, which it states is the current guidance to minimise the risk of impact from high-sided vehicles. The new canopy will be slightly nearer the exit to accommodate more queuing vehicles without affecting parking on the site and to minimise the risk of overspill onto Winchester Road.
The statement concedes that the new slightly taller canopy will alter the appearance of the site but adds that it is a smaller area, reducing in width from 15.6m to 12.9m, and remains in keeping with the current layout.
The site will also be resurfaced with improved access for pedestrians and the existing air and water bay will be relocated to the rear of the site to remove the potential trip hazard for pedestrians of the air and water hoses.
New signage consists of directional sign, dispenser signs, safety signage and brand-related images and text signs.
The statement concludes by stating that the building will not change, staff and customers will benefit from a safer, more convenient layout and energy usage will be reduced by introducing new LED lighting.