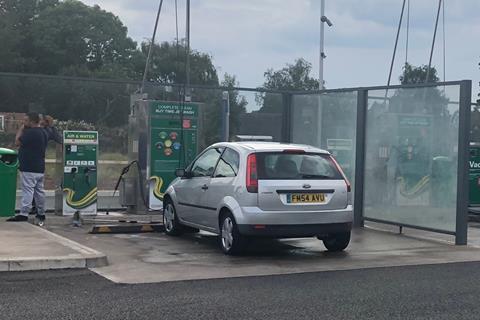 Forecourt businesses across England have been slapped with hefty fixed penalty fines following bungled government correspondence to automatic jet wash operators on Covid regulations.
A government minister had sent a letter on 15 March to a Car Wash Association (CWA) member stating that jet wash facilities that involve no third party human interaction could operate.
However, after permitting CWA members to reopen, local authorities began enforcing the closure of automatic jet washes and issuing fines to small business owners that had acted on the ministerial guidance, when the government said the minister had made an error and reitereated its previous advice.
Brian Madderson, chairman of the Petrol Retailers (PRA) and Car Wash Associations (CWA), said: "Members of the CWA with automatic self-serve jet washes had reacted to guidance issued from a government minister and acted on that advice in good faith.
"To then be fined for following the minister's interpretation of the law was harsh and vindictive. Car wash volumes at the weekend were extremely buoyant for many, with ambulances, police vehicles and the vehicles of key workers finally able to be cleaned."
Madderson added: "It had always been our understanding that self-serve jet washes, which involve no third party human interaction, should have been treated as an automatic car wash. We believed that the letter received signalled that the government had come to its senses. It just turns out that they can't agree on a consistent interpretation themselves."
Jet wash operators are now being instructed to close their facilities until step two of the government road map on 12th April, when it is expected they will be allowed to open alongside other non-essential retail.
Madderson called for all fines issued to be immediately withdrawn as they unreasonably penalise family businesses trying to provide a safe service to their local communities.
Shortly after the new crackdown government lawyers wrote to the CWA dismissing an appeal against the ban and apologising for an error by minister Amanda Solloway when she said they were allowed.
Their letter stated the ban was due to "concern that hand-held car washing facilities risk transmission [of the Covid-19 virus] between users".
They added: "We note that there was some confusion about the position of hand-held jet washes in recent government correspondence (from the parliamentary under-secretary of state, minister for science, research and innovation).
"To be clear this was an error. The Department for Business, Energy and Industrial Strategy (BEIS) has written to correct the misstatement and BEIS officials have engaged with sector bodies to ensure that there is clarity as to what 'automatic' means. We apologise for the confusion."
Madderson said the association would not be challenging this latest decision by the government at this stage. The only recourse would be a judicial review, but as it would be unlikely that the case could be heard much before12 April when the restrictions are expected to be lifted, the cost could not be justified.
However, the CWA will still seek to clarify the issue in case there are subsequent lockdowns.