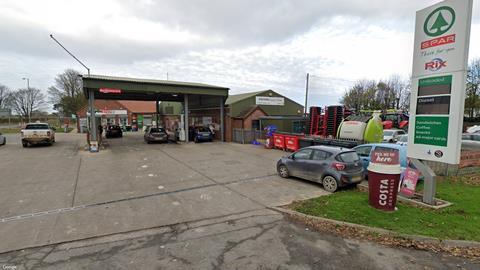 Plans for a major upgrade of Ulceby Cross Filling Station on the A16 in Lincolnshire have been approved.
Gill Marsh Forecourts applied for planning permission from East Lindsey District Council to redevelop the site, which is on the junction of the A16 and the A1028.
The scheme involves demolition of the existing shop and workshop and development of a larger store with a conservatory food seating area and toilets on the ground floor, and office with storage space on the first floor.
It also proposes erection of an HGV fuel pump island, installation of six EV charging points and increased customer parking including spaces for disabled drivers.
A planning statement prepared for Gill Marsh Forecourts by Gallagher Planning states: "This proposal would allow the business to redevelop the site to handle demand more efficiently as it is the only service station within the vicinity. The closest filling station to this site is approximately 4km away in the village of Alford."
According to Lincolnshire Live, planning officers said the application was compliant with planning policies: "Whilst the proposal is not limited to selling related products to the main filling station use, it is considered to be at as scale well related to the main use at site and of a scale that doesn't compromise the vitality and viability of the town centre. It is considered that the potential impacts would not be significantly adverse to landscape and character considerations."