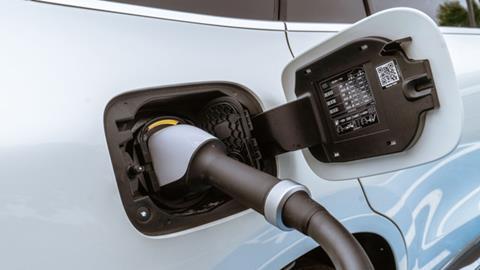 A government-backed taskforce has identified key conditions that will need to be in place if the target for phasing out internal combustion engine (ICE) vehicles is to be met.
They are contained in a report by the multi-stakeholder Electric Vehicle Energy Taskforce and come shortly after the government's Electric Vehicle Infrastructure Strategy was published last week.
The taskforce calculated that the UK needs between 253,000 and 661,000 extra chargepoints by 2035 (with a central estimate of 490,000). Their modelling assumes that chargepoints will be built ahead of need to encourage EV uptake while also allowing operators to gain a return over the lifetime of their installations.
There are fewer than 30,000 in place today, and the Electric Vehicle Infrastructure Strategy said that a minimum of 300,000 public chargepoints will need to be deployed by 2030.
In order to meet the Sixth Carbon Budget and net zero emissions targets, and end the sale of ICE vehicles by 2035, 2.5 million battery electric cars will need to be available and sold per year in the UK by 2030.
This a rate 13 times greater than the record-breaking levels seen in 2021 and consuming as much as 7% of forecast global battery car production.
To provide drivers with the confidence to buy electric vehicles and the means to charge them, near-home charging provision will be a critical part of the mix. As many as 50% of public chargepoints will need to provide charging for drivers in homes without dedicated parking.
The taskforce believes that local rapid-hub charging could provide a key part of this mix. Higher energy throughput gives such installations the potential to offer better economic returns than on-street charging and be price competitive for users.
En-route rapid charging is essential to support long-distance journeys. By 2035 60,000 such chargepoints will be needed along the strategic road network, more than 10 times the number in place today.
The rapid deployment of public chargepoints at this scale implies total UK investment in public chargepoints of £7bn by 2035, most of which the taskforce believes can be delivered by the private sector.
Electricity demand from the transport sector is projected to rise to 55TWh per year by 2035 making up 14% of total UK demand (equivalent to the electricity now consumed by 18 million homes).
Smart charging is an essential component of an efficient, cost-effective energy system as it can reduce the requirement for network reinforcement by lowering peak demands. Domestic and slow-speed public chargepoints can also reduce charging prices by 25% or more.
Through consultation with a range of expert stakeholders, the taskforce identified five key enabling conditions to ensure the deployment of a charging infrastructure that delivers good value for EV drivers, that is attractive to investors as well as accessible and available enough to meet and build consumers' confidence about their ability to charge when needed.
The key conditions are:
1. Public charging needs to be built ahead of need to gain consumer confidence
2. It's essential that local authorities have the tools, capabilities, powers and resources to ensure integrated energy and transport planning
3. Public chargepoints have to be used and usable – visible, accessible, connected, secure and interoperable to gain consumer confidence
4. Smart charging, wherever appropriate, is essential if system cost is to be managed
5. Informing, educating and protecting EV users is critical to create the understanding necessary for mass market uptake
Speaking at an event to launch of the report, transport minister Trudy Harrison said: "I'm delighted to see such brilliant collaboration across industry, as government and the private sector comes together to make sure we're EV-fit by the end of the decade.
"The EV Energy Taskforce's plan comes hot on the heels of our landmark EV Infrastructure Strategy, which sets out our expectation to see around 300,000 chargers across the UK by 2030 – backed by over £1.6bn. The insight of industry is crucial as we roll out the strategy, and I look forward to continuing to work together as we drive towards our cleaner, greener EV future.
Philip New, chief executive, Energy Systems Catapult and the EV Energy Taskforce chair, said: "A key challenge in making the UK's ambition to electrify road transport deliverable, is to define the type and scale of infrastructure that we'll need and agree a coherent view of the goal and the order and priority of the steps needed to get us there. With greater certainty, we can build the confidence of those thinking of buying an electric vehicle, investing in a chargepoint or reinforcing the distribution network.
"The EV Energy Taskforce's latest report covers a significant range of work to meet this challenge. It shows what an infrastructure that addresses consumer needs, integrates into the energy system, is investable and good value, would look like. It also highlights the key enablers required if it is to be delivered and to perform as needed."