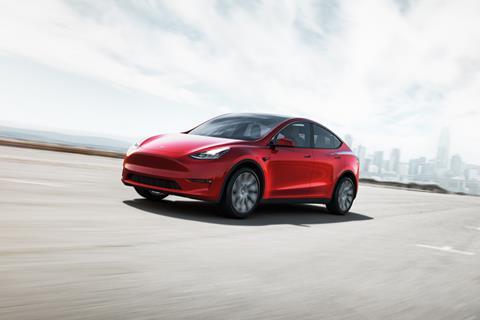 Sales of new battery electric (BEV) cars have overtaken diesel cars for the first time, according to quarterly registration figures released by the Department for Transport.
Statistics for the first quarter of 2022 (January to March) show that 64,000 BEV cars were registered compared with 34,000 diesel cars, following a 102% increase in BEV cars compared to 2021 Quarter 1.
Over the same period there were falls of 11% and 52% for petrol and diesel cars respectively.
In total 561,000 vehicles were registered during the quarter, down 3% on the same quarter a year ago, and this included 101,000 plug-in vehicles (PiVs), up 62%.
At the end of March 2022, there were 40.4 million licensed vehicles in the UK, an increase of 1.2% compared with the end of March 2021.
New registrations of cars, light goods vehicles (LGVs) and heavy goods vehicles (HGVs) all saw a decline during the quarter compared with 2021 Quarter 1, whereas motorcycles and buses and coaches saw large increases over the same period.
Cars dominated the figures accounting for 427,000 (down 1.6%) of the 561,000 vehicles registered, LGVs had the second highest registrations with 77,000 (down 22.3%).
Within the car sector petrol just held an overall majority with 218,000 registrations (51%), followed by 81,000 hybrid electric (HEV) cars (19%), 64,000 battery electric (BEV) cars (15%), 34,000 diesel cars (8%), 30,000 plug-in hybrid electric (PHEV) cars (7%) and 1,000 using other fuel types (0.2%).
Looking at the trends over five years, compared with 2017 Quarter 1 the number of new car registrations with the fuel type were:
petrol decreased by 49%;
diesel decreased by 91%;
HEV increased by 286% (around 4 times higher);
PHEV increased by 305% (around 4 times higher);
BEV increased by 1262% (around 14 times higher).
Toyota Yaris was the most common generic model for new car registrations in 2022 Quarter 1, with 10,100, followed by Vauxhall Corsa with 9,800 and Kia Sportage with 8,700.
At the end of March 2022, the most common licensed car was Ford Fiesta with 1.48 million licensed, followed by Ford Focus with 1.09 million, and Volkswagen Golf with 1.02 million.
Tesla dominated the plug-in market in Q1 2022 with its Model 3 and Model Y both recording 7,800 registrations. The Kia Niro was third with 4,300 registrations.