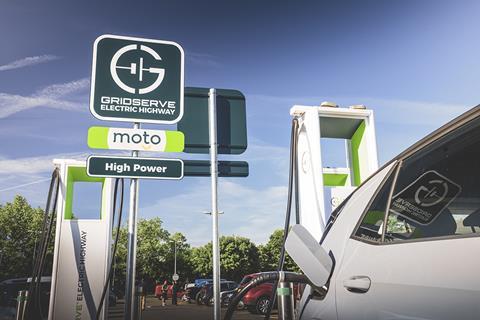 Seventeen new high-power EV chargers have been brought into service by the energy company Gridserve and Moto, the UK's largest motorway services operator.
Six of the chargers have been introduced as Moto Severn View, on the M48 north-west of Bristol, and 11 have opened for service at Moto Heston, on the M4 on the eastern outskirts of London.
The new additions mean Moto and Gridserve have added 53 high-power chargers across six new Electric Super Hubs in what they describe as historically underserved areas of the UK, including Swansea, Exeter, Thurrock and Burton-in-Kendal.
The chargers at Severn View and Heston can provide up to 350kW, and the partners say there is capacity to expand if there is future demand.
In addition to Moto Severn View's newly launched high-powered electric vehicle charging hub, the site will retain its 60kW Medium Power Gridserve charger, as well as two untethered up to 22kW AC chargers.
Toddington Harper, CEO of Gridserve, said: "Gridserve is continuing its multimillion-pound investment in the Gridserve Electric Highway charging network with the launch of its fifth and sixth Electric Super Hubs delivered so far this year. We're building a robust, dependable, nationwide charging network so that anyone, anywhere, can feel confident about driving any type of electric vehicle and have a great charging experience.
"Gridserve is continuing to deliver on its mission to move the needle on climate change by providing the EV charging infrastructure required to help drivers make the switch from fossil fuels to electric in the swiftest possible time frames. We are committed to ensuring all corners of the UK can benefit from the EV revolution, and these latest sites, along with our Swansea Electric Super Hub mean that EV drivers can now exclusively rely on Gridserve Electric Super Hubs to power them from London to Pembrokeshire or Pembrokeshire to London along the M4."
Moto chief executive, Ken McMeikan said: "As the largest UK motorway services operator, Moto is setting out to transform the EV charging experience for motorists on motorways with the roll-out of ultra-rapid charging hubs at all of our sites over the coming 12 months. Alongside our partners at Gridserve, this roll-out is allowing us to bring significant upgrades in power and charging facilities at our sites."