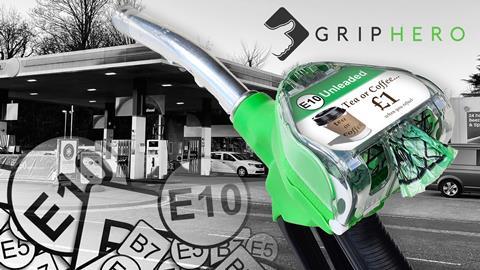 GripHero has launched a clear-top version of its nozzle-mounted hand protection dispensers.
Designed to enable forecourts to seamlessly deal with introduction of the E10 fuel-grade in September, the clear housing allows fuel grades to be switched with ease, and also gives forecourt shops the ability to insert product promotions and offers on the nozzle, to boost in-store sales.
Oli Yeo, managing director of GripHero, said: "2020 was a hard year for forecourts up and down the country, so finding ways to increase turnover is critical.
"Enticing customers in-store is key to boosting sales, which is why we've created our new transparent hand-protection dispensers, enabling forecourts to promote products and offers at the point that the motorist fills up, encouraging customers in-store to make multiple purchases.
"In addition to protecting customers at the point of fuel delivery, the added bonus of our clear-dispenser is that forecourts won't have to go to the expense or hassle of replacing the fuel pump housing when the new E10 fuel-grade comes into use this year.
"Instead, the fuel grade identifier can be easily inserted into the clear section of the fuel nozzle, keeping forecourts compliant with fuel-grade labelling directive EN-16942."