-CWA co-hosted Human Trafficking and Slavery Reception at the House of Commons with Philip Dunne MP
-Hand car washes are the biggest single source of illegal employment of men in the UK
-Right way to address it could be through some form of licensing
-CWA also chose the event to launch its first market report on the car wash industry.
-It's estimated that 193,207,825m car washes are undertaken every year in the UK, including 11,542336m automatic car washes and 10,707,613m jet washes.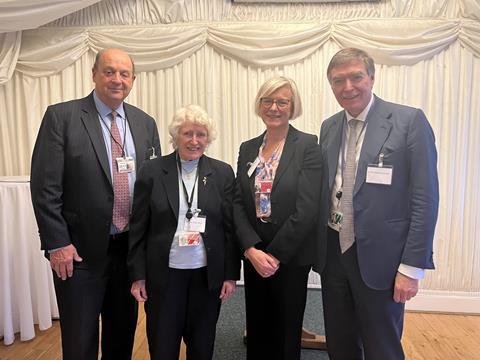 Hand car washes are the biggest single source of illegal employment of men in the UK, according to Philip Dunne MP, who co-hosted a Human Trafficking and Slavery Reception at the House of Commons this week in conjunction with the Car Wash Association (CWA).
The CWA also chose the event to launch its first market report on the car wash industry.
Dunne, who in his role as chair of the Environmental Audit Committee has been focused on modern slavery in the hand car wash sector, said he encouraged the committee in 2019 to look at the topic of modern slavery within the hand car wash sector, despite it not normally falling within the remit of the environment.
"But there was clearly an issue with environmental hand car washes pouring materials - toxic chemicals - into the open drains and thereby into the streams and the rivers, so that was a hook on which I hung our inquiry," he said.
"What we were really concerned about was the amount of modern slavery happening on our streets, particularly men. We took evidence from a number of people, and what we found was that the Gangmasters and Labour Abuse associations identified hand car washes as the biggest single source of employment on unsatisfactory terms - illegal employment - of men in the UK."
He said hand car washes were a classic example of how people can be employed in atrocious conditions, doing all sorts of illegal things: "…not paying any taxes or rates; polluting the environment; employing people in ways we thought we'd stamped out in the Victorian era of legislation and trafficking people into this country and ensnaring them into a life of slavery until they paid off notional debts to get them here.
"All of these things are completely abhorrent, and our essential recommendation was that this practice was so widespread across high streets and forecourts in this country that it needed to be addressed and we felt the right way to address it was through some form of licensing."
Brian Madderson, chairman of the Car Wash Association said: "The message is that there is now some real seriousness about trying to press ahead with this form of national licensing and that seems to be the only way in which we're all going to find a way in which to solve all of the issues which occur, whether it's tax evasion, environmental spillage, labour abuse - all of these are occurring today on hand car washes which the public are using. One of the ways we are trying to do this is to make the public more aware.
"We are not against hand car washing - our members have it. What we are all about is proper compliance and fairness.
As well as oil companies and car wash companies, the event was heavily attended by high-ranking civil servants from several key organisations and government committees, focused on the topic of slavery, including Baroness Butler-Sloss who co-founded and is co-chair of the All Party Parliamentary Group on slavery.
"Modern slavery is here now, prevalent and frequent. Thus far the group has not put its mind to car wash and now it shall," she stressed
Dame Sara Thornton, Independent Anti Slavery Commissioner, also agreed that licensing would be absolutely key: "It soon became apparent when I started in the role that hand car washes were an area of really quite high risk. Even when compliant they are an area where you have a lot of low-paid migrant workers - that is often a high-risk situation. We know it's a concern - right across the board. Low compliance with issues about environmental regulation; non-payment of minimum wage; health & safety; planning. But most of all we know in the most egregious examples there are people living in situations of absolute exploitation. And therefore it's absolutely right when you have that, that you have the full power of the law dealing with those situations."
She said it had been great to see the investigations in Cumbria resulting in the sentencing of two Romanian men who had brought people across to this country and were exploiting them in the most egregious way, who received custodial sentences under the modern Slavery Act.
"At the other end of the country I notice Sussex police have taken out a slavery and trafficking risk order against someone who's running car washes. That's not a prosecution but a risk order for five years which prevents that person from engaging in various acts and is a different use of a law - it's really good to see.
"But it strikes me when we look at the whole issue of prosecution, that we're never going to deal with this just by investigating and prosecuting. The Gangmaster and Labour Abuse authority does some good work - I was looking at their data for 2019, 60 investigations into hand car washes, one prosecution. In 2020, 38 investigations, one prosecution and one warning.
"So it seems to me that if we're going to be really seriously about how to prevent, and therefore the point made about licensing is absolutely key."
Meanwhile, the Car Wash Industry Report 2021, which was commissioned by the CWA, has been put together using feed back from PRA members, including the main equipment manufacturers and distributors, plus a range of small-to-large retailers, specialist car wash operators and some oil companies. It's estimated that 193,207,825 m car washes are undertaken every year in the UK, including 11,542336m automatic car washes and 10,707,613m jet washes.