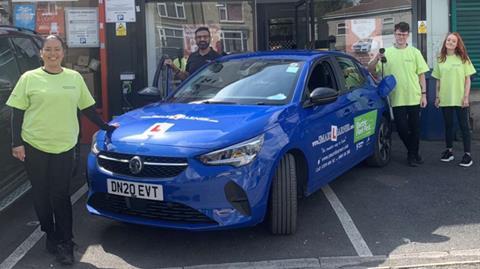 A green incentive funded by Highways England is enabling businesses to try electric vehicles for free before they buy.
Coventry-based Smart Learner Driving School is one of several businesses taking advantage of the £2.3m scheme, supported by Coventry City Council, that is designed to encourage a shift to lower carbon vehicles.
The incentive works by offering the businesses a free trial of electric vehicles for up to two months.
Driving school owner Tommy Sandhu said: "It's a fantastic incentive between Highways England and Coventry City Council because it creates a synergy between students learning in an electric vehicle and then going on to purchase one.
"We know from experience that generally whatever vehicle students learn in, they tend to go and purchase either a petrol or a diesel car as it's familiar to them. So, for me it's about educating the drivers of tomorrow and changing habits so that we don't live in the past tense anymore.
The business employs 55 instructors, covering Coventry, Warwick and Leamington Spa, and Tommy said that the opportunity to learn more about electric vehicles has been hugely beneficial for him and his colleagues.
He said: "Being able to spend time in an electric vehicle has been a hugely educational experience. There was one instance where I recall picking it up and I was worried it would run out of charge before I got home, but I popped to the supermarket to use one of the charge points, grabbed a coffee and when I came back to the car it had gained 30 miles of range which was easily enough to get me back home.
"The electric car has all of the main features you'd expect in a petrol or diesel car, but the main difference is that it's actually much quieter and we've found that students are now keen to learn in this vehicle compared to the other cars we have in our fleet.
"I'd urge other businesses to take part in the trial because it's an excellent opportunity to find out more about electric vehicles and to dispel some inaccurate myths around them. The future is definitely pointing towards electric cars and I'm excited to be a part of that."
Following a pilot with the Energy Saving Trust and a launch with Leeds City Council last year, Coventry City Council is among the beneficiaries of the investment alongside Kent and Nottingham, which have schemes operating as well as Sheffield and Bristol, which are setting up their own schemes.
In Sheffield, local businesses can trial an electric van for two months for free, to let them "try before they buy". The aim is to reduce the air pollution from small commercial vehicles on the strategic road network, with 30 Nissan e-NV200s vans available to trial.
The scheme has been made possible by Highways England's Designated Funds programme designed to benefit people, the economy and the planet with an overall investment of £936m between 2020 and 2025.
Highways England's Customer Services Director, Melanie Clarke, said: "This is a fantastic initiative for businesses in Coventry and we're keen to play our part in helping to improve air quality and tackle carbon emissions.
"Our work with Coventry City Council is just one example of us working with local authorities across the country to encourage businesses to make the switch to electric vehicles and we expect many more to start using electric vehicles when they experience the savings possible.
"We are using designated funds to benefit the environment and communities around our roads as well as the people travelling and working on them."
Councillor Jim O'Boyle, who is the cabinet member responsible for jobs, regeneration and climate change in Coventry, said: "The trial schemes are absolutely vital to help win hearts and minds of businesses and private car users, especially as the city continues to open up after the challenges of the Covid pandemic.
"We already have more electric charging points in Coventry than in any city outside of London. Plus, we are also gearing up to become the first city in the country to run an all-electric bus fleet.
"At the same time, there has been a real interest among businesses in taking part in the free trial scheme and in testing out electric vehicles, and it's great to see how it has been working with Smart Learner Driving School.
"I know that Coventry University is testing four vehicles out and I hope that more businesses will get in touch and try one out.
"As a city we are applying a whole series of approaches to address air quality and climate change and we are always at the front of the queue to apply innovative solutions."
More than 50 vehicles, mostly vans, are currently operating as part of the scheme in Coventry including three LEVC black cabs which are made in the city along with three Nissan Dynamo taxis.