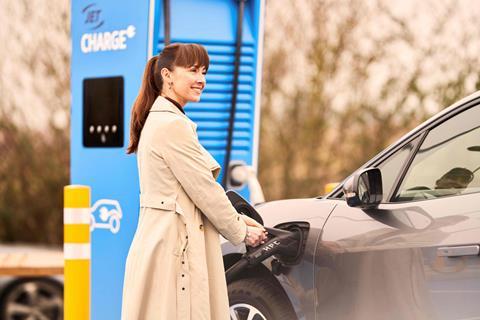 Jet has announced the official launch of Jet Charge – its 'ultra-rapid' pay-as-you-go EV charging offer.
Following a soft launch at three company-owned sites – Jet Beacon Garage in North Yorkshire, Jet Newton Park in County Durham and Jet's flagship Refinery Service Station in North Lincolnshire – Jet Charge has received highly positive reviews with customers highlighting 'speed', 'simplicity of use' and 'easy payment' as key features.
Jet reports that one customer who used Jet Charge at Beacon Garage commented: "This is what charging should be like. Rock up. No waiting. Present card, plug in. Pause. Present card unplug and away you go."
the company said Jet Charge has been developed with the customer's needs first and foremost, and features 150kW ultra-rapid charging, pay-as-you-go payment and no minimum charge,
"Speed, reliability and simplicity define Jet Charge," said Oliver Mueller, retail business manager, Phillips 66.
"Unlike a number of existing products that require convoluted app downloads and complex payment methods – we have chosen a very different road. No connection fees, no subscriptions – just fast reliable charging with no minimum charge."
He explained that reliability and consistency around charging times is a well-documented concern for EV drivers with advertised charge times often doubling or trebling at busy, high-usage periods, and added: ""Our research among EV drivers was unequivocal – speed of charge is the holy grail. And that's why Jet charging sites all have infrastructure in place to enable stable and fast charges. "It's definitely made the process of coming to market slower – but we were clear that we would launch once we had addressed the issues that our customers were telling us about. Jet is a value-for-money brand dedicated to getting our customers back on the road quickly and safely. Jet Charge is no different "
The chargers all feature the two most common connectors – CHAdeMO and CCS – with the kilowatt per hour price displayed on roadside poles alongside fuel prices.
Jet Charge will be listed on destination directory services including: Zap-map, Google maps, Waze and in-car navigation systems.