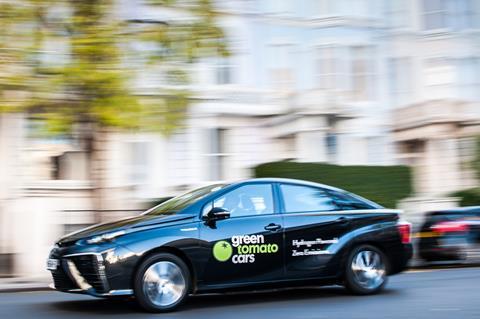 The founder of Europe's largest fleet of zero-emission hydrogen cars says London should seize the chance to rid itself of 'the Big Smoke' tag by increasing the number of hydrogen refuelling stations. Jonny Goldstone, managing director of Green Tomato Cars, a green private vehicle hire business, believes improving the hydrogen refuelling network could spark a 'green rush' to help the capital - and the rest of the UK - hit its Net Zero targets.
Green Tomato Cars has 50 Toyota Mirai hydrogen cars in use, with another 14 on order.
But with only six hydrogen refuelling stations across the South East at present – with only one of these located in East London – he says there's a risk as demand increases that drivers will have to travel further than they should to reach the next closest station.
Goldstone, who also has electric vehicles and hybrids in his 250-strong environmentally-friendly company-owned fleet, said: "We want London to lose its reputation as the 'Big Smoke'. Our hydrogen vehicles emit zero CO2 emissions, whereas other vehicles are pumping out high volumes of carbon emissions every day. A widespread take-up of zero-emission hydrogen and battery electric vehicles is essential to improving air quality across the capital.
"We have 50 hydrogen cars and we're looking to expand that number. But we want to have the confidence that the infrastructure will be there to allow us to operate consistently and efficiently for our drivers and customers.
"The refuelling network needs to expand to enable demand for hydrogen vehicles to increase, which in turn will lead to manufacturers producing more and greater customer uptake. It's a classic 'chicken and egg' situation at the moment, but we're proud to be leading the way."
The majority of Green Tomato Cars' 50 hydrogen car drivers have written to their local MPs to gain support for the expansion of the network.
"We have lots of plug-in electric vehicles and I absolutely believe they have a part to play too," said Goldstone.
"But if we are to reach the Net Zero targets that have been set, we can't just invest in one form of technology. Even the most staunch supporters of battery technology will acknowledge that.
"We need support and leadership from the top on this. The Government should be leading the way and businesses should be part of the solution. At the minute, the major push is coming directly from businesses.
"The Government is currently producing a UK Hydrogen Strategy, and London has ambitious plans to improve air quality. Both of these require a clear plan for hydrogen refuelling stations in London, and across the country. A clear policy for this, aligned with incentives to encourage the purchasing of hydrogen vehicles will provide a powerful statement about the UK's potential to lead the world's hydrogen economy, which is expected to be worth $2.5 trillion by 2050.
"We simply can't afford for this to be an opportunity missed."