EuroSpar Kilkeel Greencastle in Newry, County Down and Spar Musgrave in Belfast have switched to the Texaco brand, bringing the total number of Henderson sites under the brand to four.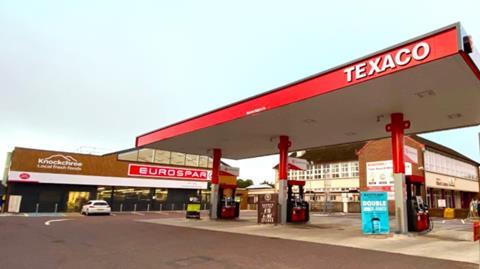 EuroSpar Saintfield Road moved to Texaco in 2014 and Spar Seagoe in Portadown joined at the end of last year.
Henderson Retail is one of Northern Ireland's largest independent fuel site operators with 70 sites. EuroSpar Kilkeel Greencastle switched this month, while Spar Musgrave will be joining in October.
Ron Whitten chief financial officer, Henderson Group, said: "Our strong relationship with Valero has grown over the years and we thought that the time was right to strengthen our network of Texaco-branded sites. We were impressed with the fuel package on offer as it suited the needs of the company."
EuroSpar Kilkeel Greencastle is situated in a busy fishing town with strong farming links and has about 12,000 customer visits in a normal week. Due to a number of caravan parks close by, the site can see up to an increase of 30% in sales and footfall during the summer months. In 2015, the store was refurbished from a small convenience store to a 5,180sq ft EuroSpar, doubling in size and giving the local community a one-stop shop that includes a Post Office, deli, butchers, Subway and goods from local artisan suppliers.
Spar Musgrave serves a neighboring hospital and has direct links to the main route in and out of Belfast, and sees a much wider catchment of customers.
Andrew Cox, Valero's director sales and marketing, said: "We are incredibly proud that Henderson Retail have chosen to switch another two of their sites to the Texaco brand. They're a significant player in the Northern Ireland market and we're delighted that our relationship with them continues to grow, and they know Valero can be relied on to support their business with security of supply, quality fuels and an industry-leading delivery service."