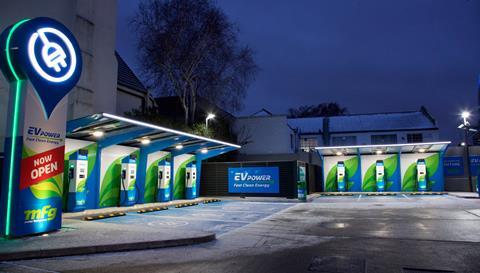 MFG's EV Power charging network has slipped to second in the latest annual league table of the best-rated charging networks in the UK, compiled by chargepoint mapping service Zapmap. The number-one Top 50 Indie was joint-first last year. BP Pulse came 10th.
More than 4,000 EV drivers rated the UK public charging networks with Fastned coming out top in the long-running Zapmap survey.
Now in its sixth year, the league table derives from Zapmap's annual EV charging survey, conducted during October 2023. The survey - which claims to be the most established and comprehensive study of EV drivers in the UK - saw record responses from more than 4,000 EV drivers.
This year, for the first time, Zapmap has produced two sets of network rankings, in order to better account for the difference in scale and operation between those predominantly focused on rapid or en-route charging, and those which are mainly supporting the rollout of on-street or destination chargers. The rankings for on-street and destination charging providers are due to be announced this week.
For this year's 2023-24 rankings, Zapmap is again awarding a 'Best EV Charging Network' accreditation to the top scorer, with the others in the top five also receiving an 'EV Driver Recommended' title. However, for the first time, Zapmap is also introducing a new 'Up and Coming Network' accreditation.
As part of the survey, respondents rated their overall satisfaction for the networks they use regularly, which is then used to rank each network out of a maximum of five stars. They also rated their level of satisfaction with the networks in five key areas: reliability, ease of use, customer support, value for money, and payment options.
In order to be included in the league table, each network must have more than 75 rapid or ultrarapid devices (50kW+), 20% or more of the total devices must be rapid or ultra-rapid, and they must receive a minimum of 100 responses in the survey.
The Tesla network is excluded from the rankings because the majority of its chargepoints are still only available to Tesla drivers.
The Fastned network was ranked number one, providing high-power charging hubs with multiple devices at each location. Zap Map reported that Fastned scored particularly highly for the reliability and ease of use of its charging network, and secures this year's 'Best EV Charging Network' badge.
In second and third place respectively this year were MFG EV Power and Osprey Charging, described as two networks also focusing on rolling out high-speed charging hubs at a national level. The two networks earn the 'EV Driver Recommended' title for the 2023-24 rankings, alongside Ionity and InstaVolt, which take fourth and fifth place respectively.
The league table illustrates Zapmap users' most popular 'en-route' public charging networks in the UK. These operators predominantly offer high-powered charging devices, catering to drivers looking to charge up as quickly as possible during longer journeys.
ChargePlace Scotland – which holds seventh place overall – took first place for customer support and also value for money, due to some of its extensive network of charge points still being free to use.
At the lower end of the table, bp pulse and GeniePoint have swapped places, with the former taking 10th position and the latter coming in at eleven. The two networks, which both operate a large number of charge points across the country, came lower down in terms of reliability and ease of use – areas both operators are working hard to improve upon.
This year Zapmap has also added a new 'Up and Coming Network' category, for those networks Zapmap describes as not having quite the requisite number of responses from EV drivers in the survey, but whose performance would have put them near the top of the table.
The en-route 'Up and Coming Network' this year is evyve, a new network that already has more than 100 charging locations and 220 devices across the UK, most of them higher-powered devices.
Melanie Shufflebotham, do-founder & COO at Zapmap, said: "This year has seen continued growth in the number of new electric cars registered, and in parallel significant growth in the charging infrastructure that many drivers depend upon.
"The results of our annual EV survey highlight that for many EV drivers availability and reliability of chargers remain a concern. That's exactly why these rankings and our 'Best EV Charging Network' accreditations are important. They provide feedback directly from EV drivers and act as a solid indication of which networks are more dependable.
"Splitting the rankings into two categories reflects the growing nature of the market, with many more players and more specialisation, so it makes sense to compare similar networks.
"Going forward we hope that all the charge point networks will continue to focus on providing both more chargers and a reliable, easy-to-use charging experience for EV drivers."
In its detailed review of the best top five en-route charging services for 2023/24 Zap-Map gave MFG's EV Power a star rating of 4.0 - compared with 4.5 for FastNed.
It said: "Coming in joint-first last year, MFG EV Power has moved to second place this time around. Its sites are typically at traditional petrol station locations, and are installed in charging hubs with at least four charging devices. MFG has more than doubled the number of chargers in its network this year, predominantly installing reliable, high-powered hubs at forecourts across the country.
As with Fastned, reliability and ease of use were integral to MFG EV Power's position this year. The network came in joint-second for reliability and second for ease of use, helping it to win an 'EV Driver Recommended' accreditation.
Feedback highlighted the pace of MFG's charge point rollout in 2023, with "loads of chargers popping up," as well as the reliability of devices and "Excellent amount of chargers at each location." One driver simply said: "Always worked for me!"
MFG also came in joint-second for payment options, which include Zap-Pay, contactless and the MFG EV Power app. Some drivers noted high costs as a detractor, but emphasised the "Excellent facilities and the safe/secure environment at 24/7 petrol stations".
Martin Symes, EV director at MFG EV Power, said: "The MFG EV Power team are humbled and honoured to be recognised in the Zapmap drivers' survey.
"This achievement reflects the tireless efforts of our entire team, it fuels our commitment to shaping the future of sustainable transportation and our passion to continue pioneering innovation and delivering exceptional EV experiences.
"We would also like to take this opportunity to express our gratitude to all our customers for your trust and support. Your choice to partner with us on this sustainable journey is truly appreciated. Together, we are shaping the future of mobility, and we couldn't do it without your dedication."
Network stats:
● 560 ultra-rapid charging devices across 120+ locations, predominantly at fuel forecourts
● Aiming to install 3,000 ultra-rapid chargers by 2031
● MFG EV Power is a live Zap-Pay partner
Jade Edwards, Head of Insights at Zapmap, said: "These en-route network rankings help to give clarity on how the UK's charging infrastructure is developing, not least because they highlight what networks are doing well, and where there is room for improvement at this high-powered end of the charging spectrum. "It's clear that the reliability and ease of use of the UK's en-route charging networks are key drivers of the level of Zapmap users' satisfaction with any given network. These two factors should be top priorities across all the UK's public charging networks.
"Indeed, Zapmap's annual survey shows that while many en-route networks are providing a reliable, easy-to-use service, others have work to do. Electric cars are entering the mainstream, so it's vital for the industry to make public charging as simple and reliable as possible."