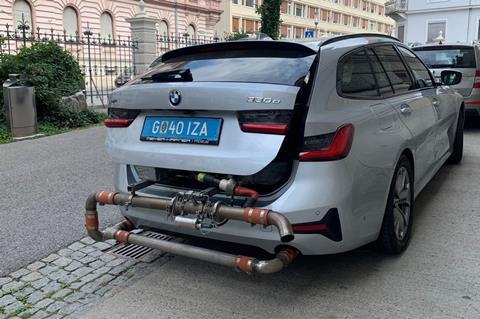 Plug-in hybrid (PHEV) cars pollute far more than advertised and are a dangerous distraction from full electrification, according to a cross-Europe group focused on the environmental impact of transport.
Transport & Environment (T&E) commissioned research by Graz University which found three recent PHEV models, a BMW 3 Series, Peugeot 308 and Renault Megane, emitted more CO2 than advertised when tested on the road even when starting with a full battery.
The BMW polluted three times its official rating when driven on a typical commuter route, according to the tests by the University. The Peugeot 308 and Renault Megane plug-in hybrids performed better but still polluted 20% and 70% more than claimed, despite the relatively short round-trip distance covered (34 miles).
In city driving, the Peugeot had just over half (53%) of the advertised electric range on a single charge while the BMW had only 74%. The Renault did achieve the electric range claimed, but with just 31 miles on a single charge and no fast charging, the Renault's zero-emissions use on commuter routes across European cities will remain limited, according to T&E.
The UK is committed to phasing out sales of new petrol and diesel cars by 2030, but PHEVs will be allowed to be sold until 2035. T&E said only plug-in hybrids with a minimum electric range of 80 miles and the ability to fast charge should continue to be allowed to be sold after 2030.
Richard Hebditch, director of Transport & Environment UK, said: "Plug-in hybrids are sold to drivers and governments as part of the climate solution. The truth is they pollute far more than advertised and are a dangerous distraction from full electrification. In city and commuter tests, they pollute significantly more than advertised. The government's plans to decarbonise driving must be based on the reality of their emissions, not on the industry's claims."
Company cars make up half (51%) of new PHEV sales in the UK, driven by lower benefit-in-kind taxes for employees and lower road tax (VED) compared to full combustion engines. But research shows company car PHEVs drive the vast majority of kilometres on the engine and are rarely charged. When tested with an empty battery, the BMW, Peugeot and Renault emitted 5-7 times their claimed CO2 on the road. T&E said the government should tax private car and company car PHEVs based on their pollution in the real world.
Hebditch added: "The UK is publicly committed to phasing out of sales of new petrol and diesel cars by 2030, but has left a backdoor for fossil fuels in plug-in hybrids. The reality is that PHEVs are still big polluters. Unless there are tight rules about what will be eligible, we risk locking in CO2 from cars right through the 2030s rather than the fully electric future we need."