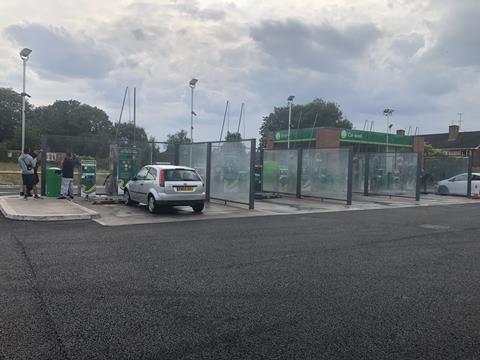 Forecourt operators are being warned they may have to close jet wash facilities after a change in the regulations covering the Covid-19 pandemic, and several have already been ordered to do so by police and their local authorities.
The PRA and Car Wash Association (CWA) are seeking urgent advice after the update to the regulations.
Although hand car washes have already been ordered to close, the PRA and CWA had been advised by the Department for Business, Energy & Industrial Strategy (BEIS) that automatic car washes could remain open, and this had been interpreted as including jet washes.
However, the Office for Product Safety & Standards (part of BEIS) issued an updated interpretation and guidance to Local Authorities on Friday 15 January.
It takes the form of Q & A and reads:
"Can jet washes operate? i.e. where the car cleaning facilities are provided at sites and you operate the machinery yourself? These facilities are not fully automated and therefore are required to be closed.
"Can automatic car washes operate where an attendant spray's the wheels first? Only fully automatic car washes are allowed to open."
The CWA reports that several local authorities (Northampton, Wakefield, Barking & Dagenham, Folkestone & Hythe) have acted on this advice and it anticipates others will follow.
The advice from the CWA is: "As during the November lockdown, it is your judgement whether to continue operating automated self-serve jet washes until such time as enforcement officers from your local authority make contact or to close them until such time as further clarification is provided. Do engage with your local authority as there are no substantive grounds at present for refusing."
The PRA and CWA say they believe this interpretation of the regulations is incorrect and they are concerned that this is not what Parliament intended when drafting the regulations.
Their position is that car washes perform a vital road safety function, particularly during the winter months. They point out that that not all vehicles can use roll-over and conveyor wash systems due to their size or specialised nature and this decision leaves a number of larger and more specialised vehicles including delivery vehicles and ambulances without the opportunity to maintain clear visibility on winter roads.
They add that the new guiidance takes no account of the relative risks of virus transmission between a professionally installed and operated automated self-serve jet wash facility and standalone third-party hand car wash businesses.
They also reassure members that whatever the position regarding automated self-serve jet washes, there are no such concerns regarding roll-over and conveyor wash systems.