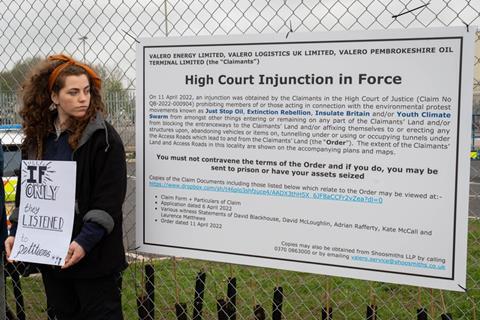 Petrol filling station operators are being urged to review their security after government agencies warned there is a strong likelihood that protesters may target forecourts.
The PRA has sent out a warning to members following a meeting with BEIS Downstream Oil Resilience team, trade bodies and the police this week to review the situation regarding protests by Just Stop Oil.
For nearly three weeks from the start of April protesters from the group tried to disrupt deliveries from oil terminals in Essex and Warwickshire. They called a temporary halt last week but their activities have restarted at the Kingsbury terminal in Warwickshire.
In a notice to members PRA said: "Intelligence suggests that there is a strong likelihood of further protests which could include protests on petrol filling stations. These may take the form of gluing equipment e.g., dispensers, so they are inoperable. and spraying graffiti."
With the notice it sent Site Security Guidance prepared by Business, Energy and Industrial Strategy, Centre for the Protection of National Infrastructure and National Counter Terrorism Security Office.
It said the document would act as a guide to a robust security culture and provide the principles for effective security practice. It added: "It is a valuable tool that will enable private sector operators to access best practice guidance and advice to improve their security arrangements."
PRA executive director Gordon Balmer said: "What is paramount in all this is to keep customers and our teams safe. If members have any concerns about this they should contact the PRA."
Meanwhile there have been no further reports of disruption in Essex, and Thurrock Council has obtained an injunction banning protesters from any activity at the terminals or any forecourts in its area.
However, despite Valero obtaining an injunction banning protests at its Kingsbury terminal there were further arrests over the weekend and 16 protesters were arrested there on Tuesday.
Following the arrests, Warwickshire Constabulary's assistant chief constable Dave Gardner said: "The High Court injunction remains in place and I would strongly advise against people coming to Kingsbury to conduct any protest activity.
"Although the force respects the right to the peaceful protest, we will always take action against anyone found to be acting outside of the law.
"If you are believed to be in breach of the order, officers will arrest you and you will be taken into police custody until you have to appear before the courts.
"A number of arrests have been made this morning and our priority continues to be to minimise any disruption to the community and the local road networks, while ensuring the terminal can go about its day-to-day operational activity.
"A heightened police presence will remain in the area as we deal with the protesters and continue to protect the public from harm.
"I would like to thank the local community for their continued patience. It remains a challenging time but we are working in conjunction with our partners to minimise any disruption.