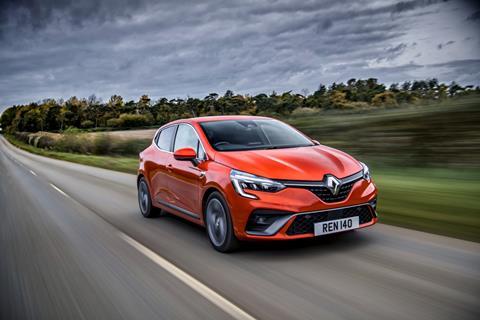 The RAC has extended its relationship with Renault UK by winning the contract to provide roadside assistance for all its new electric vehicles (EVs) as well as all EVs still covered by its three-year warranty.
Every battery electric Renault vehicle sold or under warranty in the UK is covered by the RAC should a driver encounter anything unexpected on the road.
Renault's decision to appoint the RAC as its breakdown partner is a move away from the previous model which was primarily centred on recovery of vehicles as opposed to roadside repairs.
The new contract is further recognition of the RAC's support for drivers of electric vehicles. According to the RAC, its EV Boost van-mounted chargers are now seen as the modern-day equivalent of the fuel can for drivers who run out of charge.
In addition, the RAC All-Wheels-Up recovery system, which is now fitted to the majority of patrol vans, can be used to tow an electric car safely with all four wheels off the road, saving customers having to wait for a separate flatbed truck.
Prior to taking on roadside assistance for Renault EVs, the RAC had already been looking after all the manufacturer's new petrol and diesel cars since 2013.
RAC head of OEM roadside John Ellis said: "We're very proud of our longstanding relationship with Renault and even prouder to have taken it a step further by being awarded the contract to provide roadside assistance for all its new and warrantied electric vehicles.
"While this currently covers the Twizy, the Zoe car and van, and the Kangoo van, many more exciting vehicles are on the way in the form of the Megane E-Tech and the Master E-Tech van, but perhaps most notably the return to our roads of the incredibly iconic Renault 5 in electric powertrain format.
"As number-one for EV breakdown we're ideally placed to come to the aid of any of Renault's customers who might need help at the roadside. Should a driver accidentally run out of charge or be disappointed to find a public charge point that's not working, we're ready to help thanks to our lightweight, engine-driven RAC EV Boost charging system – technology that will be fitted to one in every five RAC patrol vans by the end of next year.
"And, if customers end up stranded for some other reason such as a double puncture or a suspension issue, our patrols can use the All Wheels Up recovery system to rescue them, which means they don't have to wait for a flatbed to attend."
Mark Thomason, director of quality and service at Renault UK, said: "I am extremely pleased that we're able continue to develop the services we offer for our customers with our long-term partner, the RAC. Together we are working hard to ensure all the key elements are in place to provide our customers with a seamless ownership experience, whether that be EV, Hybrid or ICE Renault vehicle."