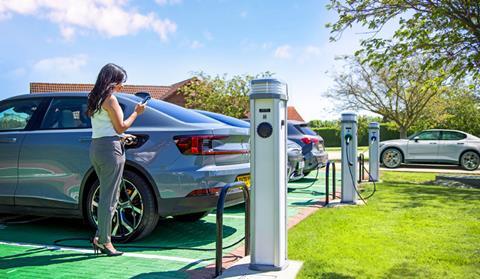 Rolec has agreed a deal to support the delivery of a 1,000-charger point network across sites, offices and retail branches of Saint-Gobain UK & Ireland, one of the UK's largest manufacturers and distributors of building solutions, over the next five years.
The agreement comes on top of Saint-Gobain's recent commitment to move all of its 3,200 company cars to fully electric by the end of 2023, investments in new hydrogenated vegetable oil HGVs, which will reduce CO2 per mile by around a quarter for its British Gypsum, Artex and some distribution brands, and the roll-out of electric mechanical handling equipment.
The 1,000 charging point network is in addition to Saint-Gobain's commitment to install an electric car charging point at 3,200 company car drivers' homes where they are able to accommodate a charging point.
"We are committed to be net zero carbon by 2050 and meet additional science-based targets by 2030 so it's essential we act quickly where we can and accelerate the actions we're taking to reduce the carbon footprint of our transportation and reduce the impact on the planet from our colleagues who need to drive for work", said Saint-Gobain UK & Ireland CEO, Mike Chaldecott.
Saint-Gobain UK & Ireland owns a range of brands including Jewson, and 500 of the 1,000 locations where chargers will be installled will be Jewson branches.
Roll-out of the charger network is already under way with 200 expected to be installed each year for the next 5 years.
Saint-Gobain will also be using Rolec's charger management system, VendElectric, which will allow the business to control and manage the charging network and allow it to assess usage and enable colleagues and visitors to find information on real-time charger availability.
Mike Chaldecott added: "Having an extensive charging network, for colleagues and visitors, is essential to making the rapid transition to electric cars as easy as possible for people. From the end of 2023 we want colleagues travelling in a company vehicle or on company business to do that in an ultra-low emission electric or hybrid car and over the next five years, with the help of this new partnership we'll be installing more than 4,000 charging locations country wide – 1,000 of them on our sites for colleagues and visitors."
Jake Hudson, business development manager at Rolec, said: "We are looking forward to working with Saint-Gobain and its brands to provide their locations with electric vehicle charging solutions, suited to their individual requirements. Knowing that businesses like Saint-Gobain are making sustainable commitments for the future of transport is encouraging for the UK's wider environmental/climate plans; we are delighted to be a part of Saint Gobain's electric journey for now and for the future."