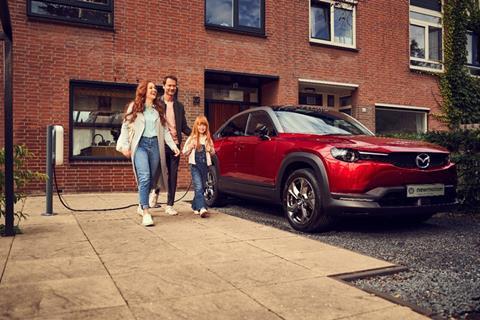 Shell's electric vehicle (EV) charging arm NewMotion has agreed a partnership with Mazda.
The deal means Mazda MX-30 owners will be offered a NewMotion home charge point and can access its UK public network of 2,500 charge points. NewMotion will also deliver electric vehicle (EV) charge points at UK Mazda dealerships.
Commenting on the partnership, Mazda Motors UK managing director Jeremy Thomson said: "We chose to partner with NewMotion due to its pioneering development of smart charging solutions over the past 10 years. The company's charge points are online connected, meaning they can receive regular updates to ensure a Mazda MX-30 owner's charging hardware is always up to date and working perfectly. This also enables remote start and stop of charging sessions via the MyMazda app and will give our Mazda MX-30 owners a fully integrated and interactive home charging solution."
British Mazda MX-30 owners will also be able to add NewMotion's dynamic power management to their charging package, which helps manage home energy consumption. This feature monitors the total electricity consumption in a home and dynamically adjusts the charge speed of the car. If there is enough capacity left, the charge speed increases automatically.
Under the deal, NewMotion will also supply a range of 22kW AC and 25kW DC chargers to the Mazda dealer network.
Alan McCleave, UK general mwanager of NewMotion, said: "Mazda is a brand known for innovation in the automotive industry. To be partnering with them is really exciting. We look forward to supporting Mazda customers, their dealerships and employees with the move to e-mobility. We will work to install smart charging solutions at their UK offices, dealerships and their customer's homes to make sure they are ready for the exciting arrival of the Mazda MX-30 here in the UK."