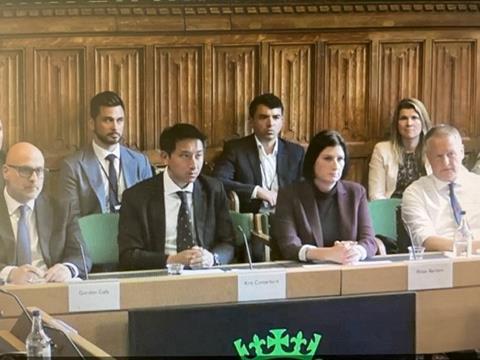 L-r: Tesco's commercial director Gordon Gafa; Asda's chief commercial officer Kris Comerford; Sainsbury's food commercial director Rhian Bartlett; and Morrisons CEO David Potts
Senior figures from four of the biggest supermarkets appeared to support a new system of fuel price transparency when they were questioned this week by MPs on the cross-party Business and Trade Committee on food and fuel price inflation and whether the UK would soon see price falls.
The four senior figures appearing at the hearing were Tesco's commercial director Gordon Gafa; Morrisons CEO David Potts; Asda's chief commercial officer Kris Comerford; and Sainsbury's food commercial director Rhian Bartlett.
Gafa told the committee that the "impact of the unfortunate war in Ukraine" had caused a significant increase in fuel prices. He explained that as more than 90% of the cost at the pump comes from input costs, taxes and duties, the "significant spike" in prices at the pumps was mainly driven by factors outside Tesco's control.
Gafa was asked what was in the power of the supermarkets – with their "huge purchasing power" – to reduce prices, which had remained "stubbornly high". He replied that prices had reduced "significantly" and were around 16ppl lower than at the beginning of the year, and were around 28% cheaper at the pumps, compared to last year's peak. He said he was proud of "how we buy" but claimed Tesco had "limited" control over the wholesale fuel prices it pays, despite buying from eight different suppliers (and uplifting from 30 different locations), because they have to refer to the Platts price on fuel, and a "significant chunk" of that price was duty and tax (53ppl plus VAT).
During the hearing MPs spoke of "huge concern around transparency in the sector", and talked about greater transparency in Northern Ireland where drivers can check the average fuel prices at every petrol station online, which has been seen to "significantly reduce" prices, and keep them consistently low through the pandemic and the fuel crisis.
Gafa said he would "welcome more transparency" on fuel pricing and would indeed welcome a system such as in Northern Ireland.
When asked: "Would you all commit to a system to give live fuel price transparency", both Comerford and Bartlett agreed.
Potts said his supermarket would be happy to look at "anything that can benefit consumers".