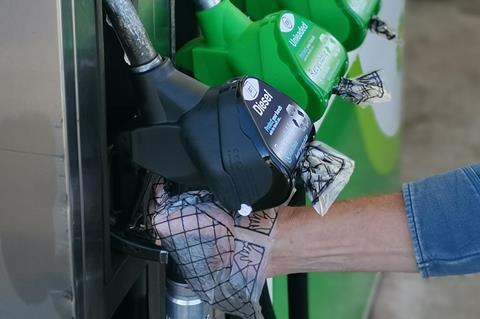 New independent research commissioned by GripHero has revealed that 66% of drivers are aware that Covid-19 can be passed from driver-to-driver at the fuel pump, and that's driving motorists to hunt for hand protection.
Eighty six per cent of drivers now actively look for hand protection, according to the survey, leading to GripHero's suggestion that forecourts failing to provide suitable hand protection could see a negative impact on their business.
This month's survey of 2,000 drivers throughout the UK, showed that concerns over health and the potential transmission of Covid-19 at the fuel pump have led to a change in motorists' forecourt preferences. Seventy four per cent of motorists are now more likely to wear hand protection than before the pandemic broke, with 85% saying that they would now travel further to a forecourt where hand protection was easily available, over a closer alternative without.
GripHero claims that since the survey was last carried out in 2017, the largest leap observed was the number of drivers that said that they would now always wear hand-protection - if it were readily available - rising 19% to 83% of all drivers.
The results of the survey sends a clear message to forecourt owners that hand protection is now a major factor in influencing where drivers fill up, accordint to Oli Yeo, inventor and managing director of GripHero Ltd: "Throughout 2020, we're pleased to have seen very significant growth in the numbers of networks around the world taking up our eco-friendly customer protection system.
"The feedback we have received from both operators and drivers correlates with the results of the survey – with many operators reporting an uptake in custom since providing convenient customer protection as well as an increase in the number of drivers protecting themselves. However, with the high-dispensing efficiency GripHero brings, the plastic waste and consumption figures actually drop considerably. Operators report a dramatic reduction to their plastic and carbon footprints, whilst protecting more customers."
Oli Yeo adds: "We must also remember that often with typical motorist behaviour, they fail to clean their hands before picking up the fuel-pump, which means that there's a very real possibility that any illness could be passed on to the next users of that pump.
"That's why GripHero was invented - to protect drivers from foul-smelling, fuel impregnated hands, and to stop the avoidable contraction of illness, which has become particularly pertinent following the outbreak of Covid-19."
Yeo explained that through the development of ATEX-certified anti-static materials, GripHero's hand-protection systems are permitted within the refuelling zone - creating the world's only solution that allows drivers to enjoy the convenience of hand-protection exactly where they need it – right in front of them, on the fuel pump handle that they are about to hold, directly at the point of use.
Moreover, as each dispenser releases just one item of hand-protection at a time, it prevents clumps of hand-protection being taken accidentally or deliberately. So, there should never be a shortage of hand-protection at forecourts installing GripHero. That means drivers can refuel and grab a snack safe in the knowledge that their hands won't have touched a surface handled by hundreds of other drivers, who could be carriers of Covid-19.
"That's a win-win scenario for all concerned - forecourt owner and driver," stressed Yeo.