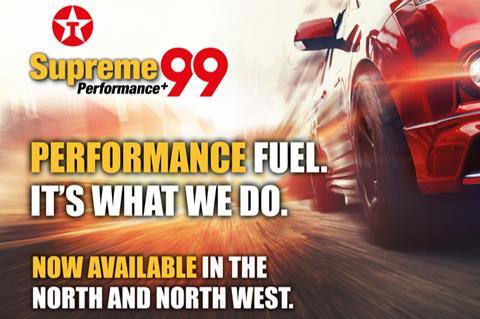 Texaco has launched its first 99 Octane fuel – Supreme 99 Performance⁺.
The new Supreme fuel launched on 8 September and is now available at more than 100 Texaco service stations in the North and North West.
Following a trial in the North West, Valero Energy, which markets fuel in the UK under the Texaco brand, will market Supreme 99 Performance⁺ to sites supplied out of Valero's Manchester Terminal.
Supreme 99 Performance⁺ is Texaco's highest ever Octane fuel (99 compared to 97 for Texaco's current Supreme Unleaded petrol) and has been designed to help keep engines performing at their best. The key features include helping to increase engine power, improve acceleration, reduce engine-knock and aid fuel economy.
While the new fuel will clearly appeal to owners of performance vehicles who want to maximise the performance of their engine, it is also expected to appeal more widely to customers who want to look after their car and treat their engine to a high-quality fuel.
"The trial showed us there is definitely demand for high performance fuels, whether for better car performance or engine protection. A number of our retailers achieved double-digit growth during the trial. The addition of Supreme 99 at the pump can only help our retailers grow volume," said Stuart McBride, Valero's manager brand marketing.
Supreme 99 Performance⁺ provides Texaco-branded retailers in the North and North West with a product that competes directly with 99 Octane fuels from Shell and Esso. The new fuel also complements Texaco Supreme Diesel.
McBride added, "We're delighted to introduce Supreme 99 Performance⁺. We're confident that this new fuel will be a win-win for Texaco retailers and Texaco customers by helping both to maximise their performance. Moving forwards, we will monitor the launch and look at opportunities to make Supreme 99 available from our other UK terminals in the future."