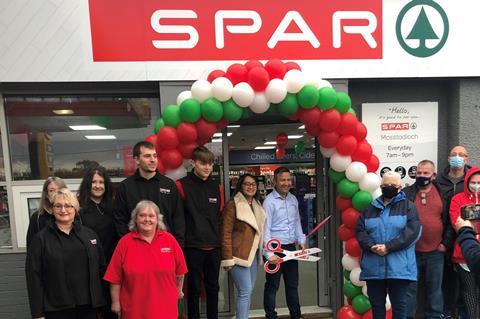 A new forecourt Spar store was officially opened in Scotland at the weekend by independent retailer Suraj Thapa, following a two-month transformation.
The Jet-branded site, in the small village of Mosstlodoch, Moray in the north east of the country, welcomed customers with Spar goody bags and the opportunity to enter a draw, as well as a choice of offers on a number of essential food and drink items.
The six-lane forecourt has car parking for 20 cars, as well as a car wash, vacuum and air.
The 2,500sq ft convenience store employs 10 people who all live locally. Inside it provides a Post Office, car care section and a wide selection of news and magazines. A large food-to-go area includes Costa Coffee, Rollover Hot Dogs, Tango Ice Blast and Fwip Ice Cream, as well as a hot food-to-go counter.
The store has a huge off licence section providing an extensive range of spirits and malt whiskies. Paypoint and an ATM are also available for local customers to use.
Suraj Thapa said: "We have owned the store for over two years, and are delighted to have transformed it into a fantastic Spar store. As well as our huge range of malt whiskies, we are stocking a large range of food-to-go, a larger chill range and also local suppliers like Baxters, Sinclair's and Murdoch's. We are very excited to be able to offer a fantastic new Spar store and forecourt to the local residents of Mosstlodoch and to those driving through this northerly area of Scotland."
Derek Murray, regional sales manager for Spar Scotland, said: "We are delighted to welcome Suraj and his team to Spar. They have invested in a significant refit and the store and forecourt look fantastic. We are looking forward to supporting the business and its development well into the future."