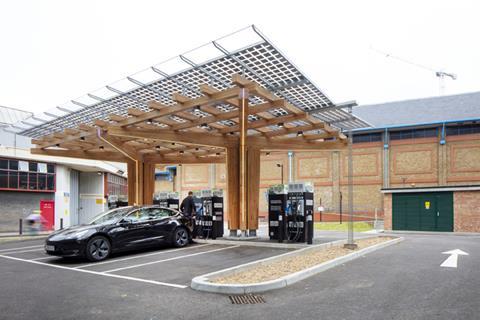 Transport for London (TfL) has opened a new rapid charging hub at Glass Yard in Woolwich with eight charging points.
The facility in south London is part of TfL's strategy to have a rapid charging hub in every one of the capital's five sub-regions. The first was in east London at Stratford International and a site at Baynard House in the City of London, the central location, is currently being constructed. More will follow in the north and west.
Alex Williams, TfL's director of city planning, said: "It's essential that we increase the supply of charging infrastructure for electric vehicles as we support the shift to these vehicles to clean up London's air and decarbonise transport in the city. We have seen an increase of more than 2,000 charging points in the capital over the last year and these new hubs are a key part of that expansion. Electric vehicle charging hubs that can be used in the same way as a traditional petrol station but without pumping toxic fumes are important in helping people to feel comfortable taking the plunge with an electric vehicle. The state-of-the art facility at Glass Yard gives people confidence that they will have a charge point available when they arrive and not have to wait long until they are fully powered up.
"These hubs will be spread across the capital and complement the dense charging network we already have, meaning range anxiety is not something drivers have to worry about in London. We know there is going to be huge growth in the number of electric vehicles over the next few years. The Electric Vehicle Infrastructure Strategy published in the next few months will set out in detail how we will cater for this demand."
The Mayor of London, Sadiq Khan, said: "I'm delighted that TfL has opened a new rapid charging hub in south London, the second of five rapid charging hubs Londoners will soon be able to make use of around the capital. There are now over 7,000 charge points available to support electric vehicle use in the city and it's great to see London leading the way in the green vehicle revolution.
"Petrol and diesel vehicles are major contributors to air pollution in London so it is essential that we make it as easy as possible for people to swap their cars, vans and motorcycles to greener, electric versions. In October, I am expanding the Ultra Low Emission Zone up to the North and South Circular roads, which will bring huge benefits to many more Londoners by helping to improve our filthy air.
"We are facing a climate emergency and, as the UK prepares to host the COP 26 climate conference later this year, it has never been more important to encourage people, organisations and businesses to make the change to zero emission vehicles to support my aim for London to become net zero carbon by 2030."
John Byrne, head of ESB EV Solutions, said: "At ESB Energy, we are committed to investing in low carbon energy solutions across the UK. We're delighted this new flagship charging facility at Glass Yard in Woolwich is now open. Our strong partnership with TfL has been crucial in allowing us to develop this facility and we are delighted to be in a position to provide further rapid charging services for electric vehicles across the London area. With a growing network of over 150 rapid chargers in London, Coventry and Birmingham, we see the huge benefit that EV infrastructure plays in helping to build a sustainable future for cities."
Wilke Reints, managing director, Intelligent Traffic Systems, Siemens Mobility, said: "As the ownership and use of electric vehicles continues to grow rapidly, projects such as Glass Yard are hugely important in building drivers' confidence in the charging network and encouraging people to switch to cleaner modes of transport. The ongoing investment in EV infrastructure, and the expansion of the ULEZ later this year, will help clean up the air Londoner's breathe and we're proud to help deliver this hub in Woolwich as well as the expanded zone. The new innovative and sustainable charging hub provides accessible, efficient and reliable charging for Londoners and visitors to the city and I'm excited to see people using it from today."