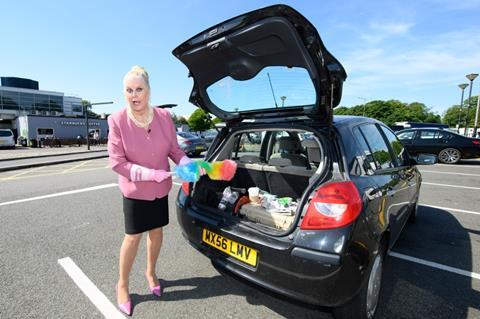 Motorway services operator Welcome Break has launched a campaign to encourage drivers to clean up their cars, and has enlisted TV celebrity and self-proclaimed 'original cleaning Queen' Kim Woodburn to front it.
To mark the launch it published research that revealed that over half (54%) of UK residents said they wouldn't live in a house that is as dirty as their car.
The poll of 2,000 adults from across the UK discovered that 9% of those surveyed admitted to cleaning their cars once every six months.
Of those surveyed, over half (52%) claimed they found it hard to find time to clean their cars.
Welcome Break teamed up with Kim Woodburn to give visitors at Keele South Services a good talking to about the state of their cars, while also offering tips and tricks to keep vehicles clean and tidy.
Kim commented: "Filth absolute filth! I'd like to say I'm shocked at some of the cars I've seen at Welcome Break Keele and the results of this survey, but quite frankly, I'm not. Empty crisp packets, six-month-old newspapers, takeaway cartons, I've seen the lot and I'm not impressed.
"Do not fear though my loves, I've got some handy tips up my domestic goddess marigolds to help keep your cars spick and span. A tidy space is a tidy mind after all."
Some of Kim's tips for keeping cars clean and tidy for road trips this summer are:
Buy containers for your boot to put all your odds and sods in to ensure everything is stored away neatly;
Seat holders are great for the kids' bits and bobs and an ideal way for keeping belongings off the floor and seats;
Grab a little bin for the front of the car – perfect for putting your toffee wrappers in. But don't forget to empty it after your journey.
Vicki Phimister, head of marketing at Welcome Break, said: "In the words of Kim Woodburn herself, we're clearly a bunch of dirty devils! We weren't surprised when the research found that two in five of us said we prioritise cleaning our houses over our cars. We've spent a lot of time in them over the past few years, but as we fully embrace our freedom once again and people are driving across the country for staycations this summer, we need to start prioritising the cleanliness of our cars too.
"It was fantastic to have Kim at Keele South to share her tips and tricks to help our customers keep their cars clean and tidy during their summer travels. We hope her advice is put to good use and that everyone has a safe and uncluttered journey this summer."