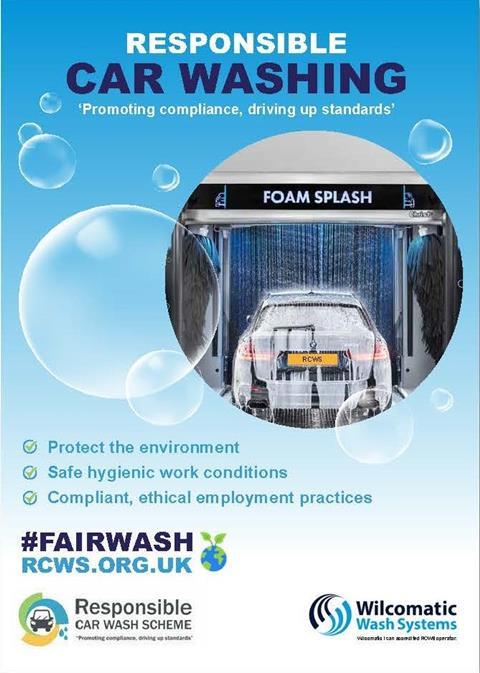 Automatic car wash maker Wilcomatic has committed to the Responsible Car Wash Scheme's (RCWS) code of practice.
The business has gained RCWS accreditation by demonstrating its adherence to regulations and ethical practices across its environmental and business activities.
Wilcomatic's automatic car wash systems, installed across nearly 550 Morrisons, Sainsbury's and Tesco supermarket petrol forecourt locations, will start to display banners from the beginning of October, alerting drivers to the fact that they can guarantee a fair wash at those sites.
Kevin Pay, managing director at Wilcomatic, said: "We have always strived to ensure our business is run to the highest standards and with the best product offer, and we are passionate about the need for the entire car wash industry to operate responsibly.
"The RCWS is doing an excellent job in drawing attention to the obligations of businesses and the choices that car owners can make, whether they're using a hand car wash or an automated system. Our belief is that the RCWS code of practice should be in place in every car wash and we are proud to promote our accreditation nationally by displaying the RCWS logo."
The hand car wash sector has consistently been identified as an industry where workers are at risk of exploitation, ranging from poor working conditions to modern day slavery. Legitimate businesses are often undercut by those breaking the law, creating an unfair competitive landscape. Many operate from unsuitable premises that discharge dangerous effluent into water courses and where staff are given ineffective protective equipment when handling harmful and corrosive cleaning materials.
Teresa Sayers, managing director of the RCWS, said: "It is important that drivers know where they can get their vehicles cleaned by workers who are treated fairly, where the environment is respected, and the business is being run legitimately.
"Wilcomatic sites with the RCWS logo will be visible across the whole of the UK, so drivers are never too far from a car wash they know they can trust. We hope that this encourages other car washes to ensure they comply with the law and apply for RCWS accreditation."
RCWS Accreditation requires the operator to meet and abide by the following Code of Practice, according to their business operation:
consent to trade and trading standards;
financial transparency and corporate governance;
providing safe and hygienic working conditions
protecting the environment; and
compliant and ethical employment practices and prevention of worker exploitation.