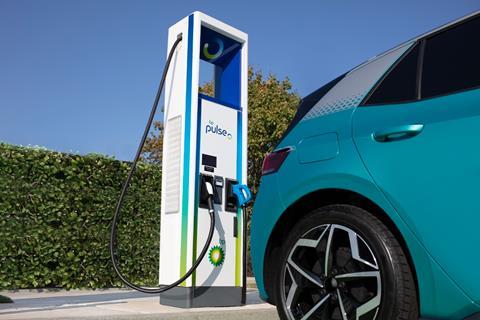 EV public charging network, bp pulse, has been named as the country's fastest-growing network in 2020, according to data revealed by EV mapping service, Zap-Map. It shows that in 2020, despite the very challenging conditions and being unable to install public charging points for part of the year, bp pulse added 167 public charging locations – 65% more than any other UK provider.
Bp pulse, which claims to be the most-used public charging network in the UK, expects to continue this rate of expansion into 2021, with an increased focus on ultra-fast charging to match rising consumer demand for faster forms of EV charging. It has already committed to increase its network of ultra-fast chargers more than 10-fold to 700 by 2025, doubling again to 1,400 by 2030.
In 2020, bp pulse says it facilitated more public charging than any other network in the UK, enabling over one million sessions during the year for almost 47,000 EV drivers. The network delivered around 16 million kWh of energy, which equates to over 50 million miles of zero-emissions-at-tailpipe driving based on an efficiency of 3.5 miles per kWh. This performance is testament to the accessibility, usability and reliability of the bp pulse public charging network.
Matteo de Renzi, CEO of bp pulse, said: "It is important that, as EV adoption continues to increase, the public charging infrastructure follows suit. We are delighted to be playing a leading role in this, adding more reliable and high-performing charging sites than any other provider. Offering choice to consumers has helped us to become the UK's most used public charging network, including offering more charge points with contactless payment terminals than any other provider.
"The availability and usability of our public charging infrastructure is proven by the number of charging sessions and subsequent electrified driving miles we have facilitated. Our work to expand the public charging network will help to encourage further adoption of electric vehicles and provide further peace of mind to existing owners."
Bp pulse operates more than 7,000 public charging points across they UK, including the largest number of 150kW ultra-fast chargers.