As HFSS snacks take a bow it's all change for 2022.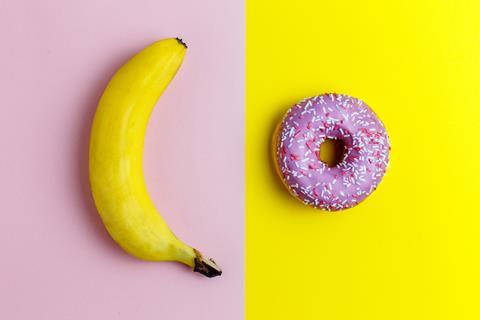 1. High Fat Sugar and Salt (HFSS) Restrictions will change snacking in 2022
This year the biggest driver to health for c-store customers won't be a new diet or the desire to fit into their old jeans – it'll be Her Majesty's Government.
That's because the countdown is now on in earnest for the HFSS restrictions, as retailers have until October 22 to get their shelves compliant.
The new HFSS rules will see media and promotional restrictions applied to 'unhealthy' products, as well as bans placed on volume productions, such as 'buy-one-get-one-frees' and 'two-for-one' deals.
HFSS products will be barred from secondary promotional locations in stores, such as end of aisle displays, store entrances and checkouts.
Rachel Hockmeyer of Hockmeyer Motors in Sleaford worries that this could have a negative impact on her business.
"It is the sole thing I am most concerned about this year, and that's with all the utility prices and the wages going up. And that's because we are so well known for our gifting – our hampers – none of those will comply with the requirements. I'm not going to be able to have my hampers on my front-of-store unit, so customers are going to have to go to a secondary section to get those. And because we are a symbol group and we are just over the 2,000sq ft, we will be affected by it.
You can check the ACS Explainer if you are unsure how it affects you.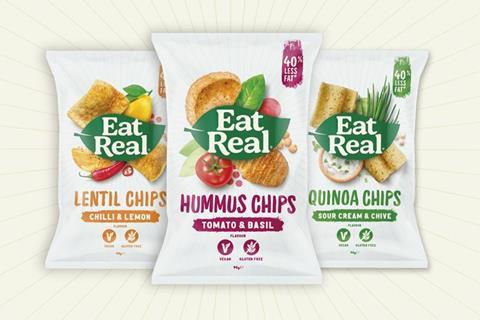 2. Over half of people want more healthier snacking options at front of store
Forecourts have traditionally been an important channel for hot food products such as pasties and sausage rolls, as well as being a place to pick up a chocolate bar or bag of sweets for the road. As time moves on however, there is an increasing need for balance, as some customers are wanting healthier snacks that are as easy to find as the other options.
According to snack brand Proper, which is part of Warp Snacks, over half (55%) of consumers want more healthier snacking options at the front of store (Proper, front of store research, 2020, Attest).
Helen Pomphrey, marketing director at Eat Real, which is also part of Warp Snacks, believes the HFSS in-store reset could give smaller brands more room to play in the impulse space.
"The introduction of HFSS regulations will level out the gap between bigger and smaller brands in the convenience sector," she says.
"Retailers will be able to use this to their advantage by allowing for bigger shelf space to the Better For You (BFY) brands, including Eat Real's HFSS compliant Hummus Chips in Sea Salt, Tomato & Basil, Creamy Dill, Sour Cream & Chive.
"By developing their in-store selection of HFSS compliant and BFY products, retailers can encourage a wider audience to associate healthy alternatives with convenience."
Erika Foster, site manager at Eurospar Templepatrick, says Eat Real's chips are a popular choice. "We've got the hummus chips and lentil chips, and new ranges coming in all the time. It's a mix of people buying them; it could be mums looking to make healthy choices for their family, or it could be people who are focussed on living a gym lifestyle.
"The same type of demographic will go for our protein bar section as well, we have a whole section for them which are very, very popular, we also have some protein bars and granola bars along the counter as well as sugar free chewing gum, where previously we might not have had that."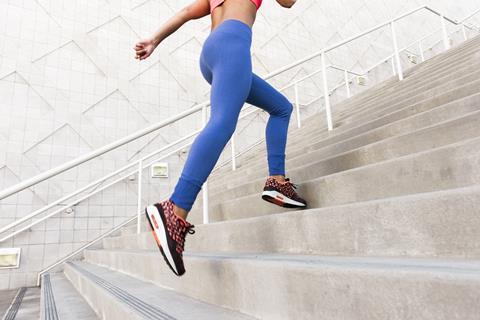 3. The better for you (BFY) category is worth £381m, up +0.2% YOY
The government hopes the new restrictions will kick-start healthier consumer behaviour. And rising sales for many better-for-you brands proves there's an appetite for more nutritious snacks post-pandemic. Mintel has flagged this as an opportunity for brands – pointing to the fact that 61% of snack eaters say they mostly try to choose healthy snacks.
The BFY category is now worth £381m, up +0.2% YOY (Kantar August 2021), notes Calbee UK. "BFY enjoys a 12% share of the total CSP (crisps, snacks, nuts and popcorn) market with a penetration rate of 74% (Kantar)," says Jon Wood, commercial director of Calbee UK.
"We predicted that the BFY category would go from strength to strength as restrictions were eased and consumers embraced attitudes to holistic health once again. Our new Harvest Snaps range is in line with the widespread consumer trend towards plant-based alternatives and we have high hopes of it becoming the major player in the BFY category."
The vegetable and pulse-based snacks provide a healthier alternative to traditional fried crisps and snacks, since they're baked not fried, and come in at under 100 calories per portion.
KP Snacks agrees that BFY snacks have a healthy future. Trading director Matt Collins notes that Covid caused healthier crisps and snacks to take a temporary knock as consumers adjusted to lockdowns and new habits. "This temporary decline was a reflection of how people's lives drastically changed and they turned to treats for comfort," he says. "Nonetheless, the health segment is now seeing a visible comeback." The group's Popchips core range is worth £38m RSV and is growing in value at +22.6% [Nielsen Scantrack Dec 2021].
The firm has put a strong focus on "big tasting flavour cues", such as its Veg Vibes variant, which launched last summer.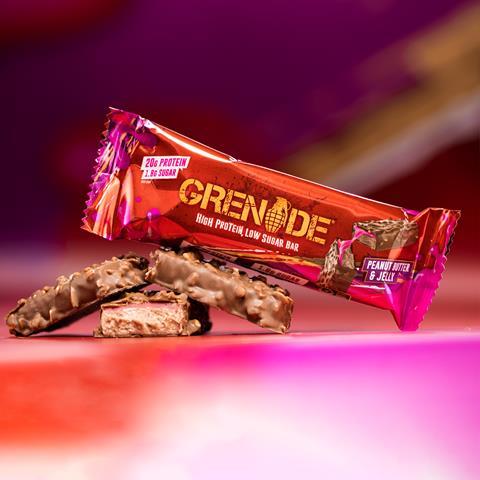 4. 61% of snack eaters are opting for healthier confectionery alternatives
Chocolate countlines are still as popular as ever, but many people are looking for a healthier alternative.
After the last few years, brands have been working hard to position themselves in the healthy snacking space. Protein bars have been one of the break-out stars, with Grenade capturing 51% of the market within convenience [IRI Marketplace, Total UK, Convenience, Value Sales, 52wks 08.08.21].
The brand claims to particularly fit the bill for the 61% of snack eaters who want something healthier than sugary confectionery, with the offer of low sugar and an extra functional punch.
"Consumers are seeking products with functional benefits, and not just snacks that have reduced sugar or calories," says Rachel Austerberry, head of convenience and high street for the brand. "Ticking these boxes are Grenade's Protein Bars, which are low in sugar, high in protein, taste great and clearly label their offering on-pack."
Grenade's flavours, such as Dark Chocolate Mint, Cookies and Cream and Caramel Chaos, aim to emulate confectionery flavours so that consumers don't miss out. Currently the number one protein bar in the total market for cash rate of sale, Grenade's Chocolate Chip Salted Caramel has the highest return on shelf space compared to any other protein bar in the market (IRI). With innovation being a key category driver for the brand, Grenade has just launched a Peanut Butter & Jelly flavour. Boasting 20g protein and just 1.8g sugar, each bar is packed with peanut butter-flavoured nougat and a gooey strawberry caramel layer.
Sarah Redley owner of Budgens Frilford, near Abingdon, says interest in protein-based snacks have been picking up for a while in her forecourt store: "I think we have a big variety of hot food, snacks to go, plus we have a huge protein range here that sells really well. Next to the coffee machine at the back of the store we have a whole metre-and-a-half of protein style healthier snacking. So, we have the Grenade bars, Snickers Protein, breakfast bars, Graze bars, and all of that is really popular."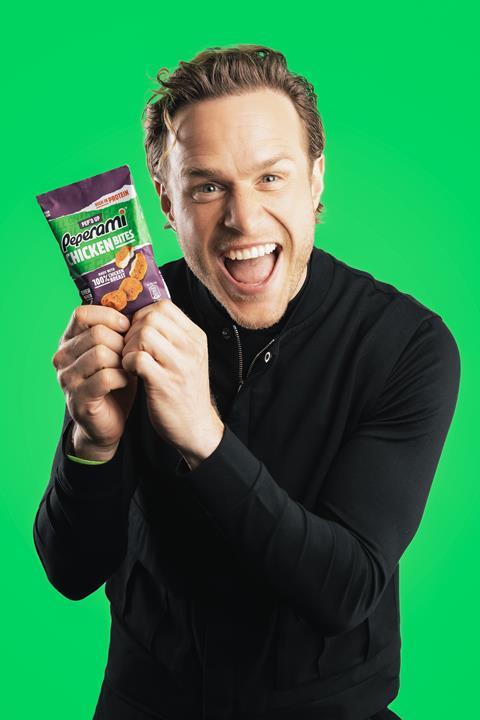 5. Meat snacks are attracting more shoppers than ever before
Laura Trivulzio, marketing director at Jack Link's and Peperami, says one in four households are buying meat snacks every year, and the meat snacking category will continue to grow.
"With high protein, lower sugar, gluten free and under 100 calories becoming key benefits consumers are looking for, the meat snacking category has continued to grow and is set to continue as the healthier snacking choice," she said.
This is reflected in Peperami finishing 2021 as a £100m brand, with the brand attributing this to sales skyrocketing in 2021 due to consumers seeking nutritious food with functional benefits, particularly those high in protein [Mintel, UK Consumer Snacking Market Report 2021].
To ensure the brand stood out in a crowded market, Peperami invested in an exciting seven-figure campaign that spanned across PR, social media, TV and radio adverts, AR game and digital communications. Video content saw famous faces, including singer Olly Murs, take part in a food-based experiment that aimed to right British snacking wrongs.
For Ziheed Mohammed, site manager of Woodman Service Station in Leeds, chilled meat snacks are always a top seller: "Peperami snacks and snack packs with chicken and cheese all do really well."
Healthy meat snacks do well in Abingdon with Sarah Redley commenting: "We sell a range of chilled snacks, and we still do a full sandwich selection but alongside that we have the protein snacks like chicken on a stick which is very popular."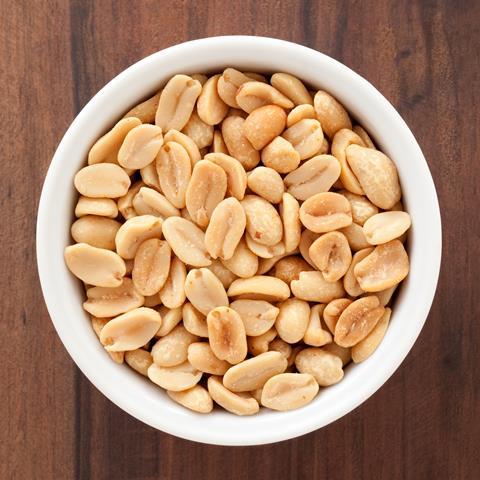 6. The HFSS restrictions will not apply to nuts
Over in the crisps, nuts and snacks category, KP Snacks has been busy flagging up the nutrient content of nuts, which will not be restricted under the HFSS regulations. "Nuts have been recognised as an important part of a healthy and sustainable diet," says Collins. "They are excluded from the proposed HFSS legislation and represent a huge opportunity for growth."
He notes that KP Nuts have a high protein and fibre content, as well as containing natural vitamins and minerals. "Since nuts are naturally high in fibre and KP is the UK's leading nut brand, we believe we have an important role to play in highlighting the fibre content of our nut range to consumers," he says. "We have rolled out fibre labelling across our portfolio of products and have pledged to use the power of our marketing to help people understand the fibre benefits of nuts and switch to higher fibre alternatives."
In 2021 the brand launched its KPow! Media campaign, championing tasty nuts while highlighting the High in Fibre messaging, and encouraging people to consume nuts more regularly. KP Nuts is worth £82.8M RSV and is growing +7.7% (Nielsen Scantrack 04.12.21).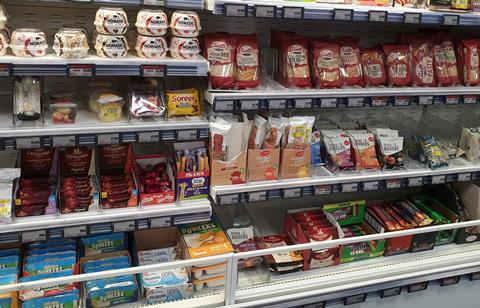 7. A chilled snack is twice as likely to be considered 'healthy' as an ambient choice
Just being there in the chiller gives many snacks a ready-made virtuous 'health halo' with data from Kantar showing that a chilled snack is twice as likely to be considered 'healthy' as an ambient snack. That's good news for the cheese snacking category, which is worth £49m in convenience (including mults) (IRI])
Anca Lazar, senior brand manager for Cathedral City Snacking, advises retailers to create a healthier snacks section in their chillers. "There is an opportunity for retailers to create a dedicated shelf or fixture for grab and go products carrying a 'healthier' positioning to help shoppers make a rapid product choice," she says. "In the chiller this could, for example, include grab and go cheese and meat snacks, hardboiled eggs, olives and veggies + dip packs."
Ziheed Mohammed already has a healthy section in his chiller. "With chilled snacks we sell Dairylea, Babybel and Cheesestrings so we do have snacking portions of cheese," he says.
"I have scotch eggs, boiled eggs, three bean salads and tabouleh and cous cous which do well. I have Peperami snacks, snack packs with chicken and cheese that all do well too. I do think people consider chilled more healthy than ambient snacks because there's the association that it's fresher."
Erikia Foster adds: "A lot of people grab a bag of carrot batons and will have some hummus with that, and we have three or four different flavours of hummus. Other chilled healthy snacks we have are fruit like mixed grapes, melon and watermelon pots which we sell a lot of in the morning because we are a transient site so we have a lot of people driving in and out of work that would come in and grab something like that."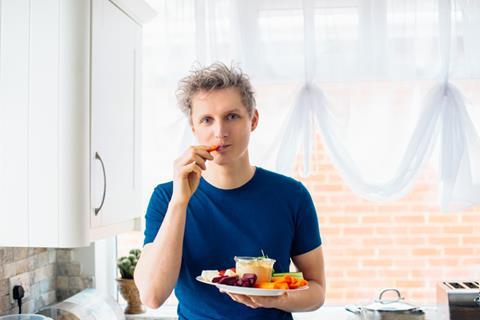 8. Over half of UK consumers have more interest in eating healthily than a decade ago
While 58% of consumers have more interest in eating healthily than they did a decade ago, one in five still rate their diet as not healthy according to new research from Birds Eye. The findings from the Better Health Impact report suggest there is a golden opportunity for the food industry to help the nation better their health by supporting and empowering consumers and providing access to affordable, accessible and nutritious food, claims the firm. "This can be achieved by expanding healthy product ranges, innovating new healthier products, making nutritional improvements to the products we are currently offering and by gently nudging consumers towards more healthy and sustainable diets," says general manager Steve Challouma. Birds Eye shares high protein snack recipes for Green Pea Hummus Dip and Pea, Ham and Cheese Muffin on its website.