Essar's Byron Barker loves his job at Essar and is a golf fantatic but he says his greatest achievement is being a good dad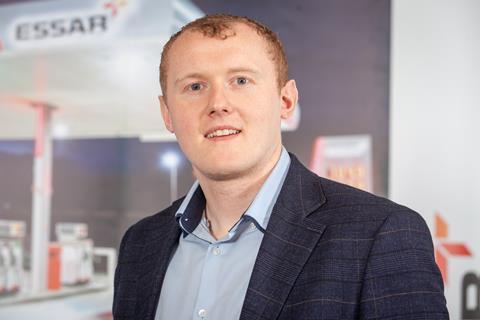 Name: Byron Barker
Job title: Business Development Manager
Company: Essar Oil UK Ltd
01 Career history: Before working at Essar, I was a forecourt manager at Tesco and a wet-stock sales account manager at Suresite.
02 Dream job (if you weren't doing this): Golf coach (if I had the skill!).
03 What do you drive: Jaguar F Pace.
04 What would you like to drive: A golf buggy.
05 Perfect day: Time with my wife and daughter, followed by a round of golf – but back in good time to put my daughter to bed.
06 Favourite team: Wigan Athletic (hopefully I won't need to prepare for life in League One).
07 Favourite read: I love a factual read. Anything about holidays, places to visit or just new tech.
08 Favourite film: Taken, I could watch it time and time again.
09 Best holiday: Thailand; I'd love to go back.
10 Possessions you couldn't do without: My coffee machine for sure!
11 Most likely to say: You get what you pay for.
12 Least likely to say: No – I'm far too positive to give a straight 'no' answer
13 Greatest achievement: Being a great dad.
14 Tips for business success: Be honest; manage your customers' expectations; and be yourself.
15 Best business advice you've received: Probably the above.
16 Best thing about your job: I get to meet great people: customers, suppliers and colleagues who all share the same passion for the industry that we work in. I believe that if you enjoy your work, you'll never work a day in your life.
17 Most recent business achievement/s of note: Becoming the business development manager for Essar in January and then landing a successful national 10p off per litre campaign for NHS staff in their private cars through the Covid-19 outbreak.
18 Pet hate: Poor communication.
19 Thoughts on the forecourt sector: The forecourt sector has proven to be an absolute lifeline to communities over these last few months. The ability to shift to an ever-changing customer demand is testament to the hard-working, forward-thinking people who work within our industry and who make it so successful.
20 Three words to describe yourself: Positive, passionate, focused.