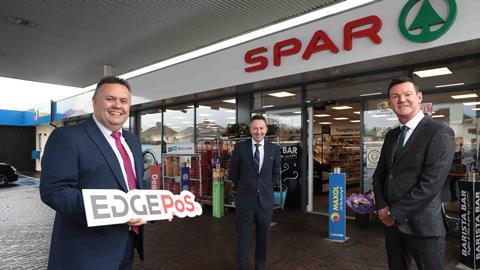 Henderson Technology has marked 10 years of its EDGEPoS till system by completing the 600th installation of the technology at Maxol Glenabbey, having been awarded the POS contract by Maxol for 17 company-owned sites.
Henderson made the decision in 2010 to develop its own EPOS system so that it could better meet the demands of retailers and over the past 10 years has continued to develop the technology to offer retailers an all-encompassing solution while fulfilling the needs of the modern consumer.
Throughout the past decade, the technology has grown to offer self-checkout stations, electronic shelf edge labels, scan & go apps and pre-pay food to go options.
Brian Donaldson, CEO of the Maxol Group, which has been a partner of Henderson Group for more than 10 years said the EDGEPoS will be hugely advantageous for its 17 outlets across Northern Ireland.
"Appointing Henderson Technology to supply their market leading EDGEPoS technology within 17 of our company owned sites across Northern Ireland, has been an overwhelmingly positive experience for The Maxol Group. The decision was made following extensive research and a rigorous tendering process over the last number of months and we have great confidence in this market-leading technology.
"EDGEPoS is at the forefront of retail innovation and the investment we are making in this system will bring significant benefits to, first and foremost, our customers who will see an improved speed of service in our stores. Operationally, the system will provide our independent licensees who run the sites with extensive sales and payments information, tighter business controls and data driven insights to help them manage and develop their offering.
"The EDGEPoS technology is continuously developing and improving which will ensure our customers continue to benefit from this market leading advanced technology. We are excited to see the opportunities this now opens up to us for further development over the next five years."
Darren Nickels, retail technology operations director of Henderson Technology, said: "Since developing this technology in 2010, we have enjoyed continuous growth and expansion, and I am looking forward to continuing on this trajectory, enhancing the technology even further and creating an even more attractive offering for the retail convenience sector.
"Partnering with Maxol has allowed us to bring our solution to one of the biggest fuel retailers in Ireland, and we are excited to build a long lasting, innovative partnership with them."