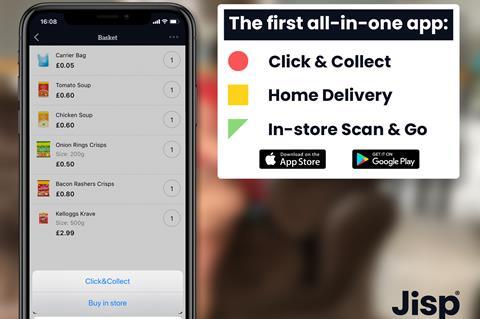 Following successful pilots TLM Technologies' evoPOS and evoBackOffice is now fully integrated to Jisp, the contactless shopping application; allowing evoPOS users to offer customers home delivery, click & collect and scan & go shopping.
One of the first forecourts to use the new application is Hylands Service Station, in Bookham, Leatherhead. Up to 70% of its customers are now non-fuel, and the owner Danyal Shoaib said investing in technology to provide the right systems and customer service has been key.
He explained: "By integrating Jisp with our evoPOS, we now have the infrastructure and systems in place to offer delivery, not just to the elderly and vulnerable people but to anyone who wishes to use this service. It's really popular – we can offer delivery within hours or the same day locally."
Integrating Jisp to evoPOS and evoBackOffice means that Jisp has visibility of real-time stock levels and all transactions are posted in real-time back into evoPOS, so the site can reconcile all sales from all channels in a single system.
Adrian Felton, CTO, TLM Technologies said: "Bringing store technology to our independent convenience and fuel customers that was thought deliverable only by the large supermarkets is what evoPOS is built to do both through its native features and functions but also through its ability to integrate with best-in-class applications such as Jisp."
He added that convenience and fuel retailers who gained significant extra convenience custom during lock-down need to retain this new customer base as pandemic restrictions ease. Offering technologies and customer service in-line with the large supermarkets is one way to do this.
Aaron Bishop, CTO of Jisp, said: "EPOS integration is the one of the most important parts of working with convenience retailers, which is why TLM Technologies is the perfect strategic partner for our company. Their back-end optimised system combined with our front-end customer engagement creates an exclusive solution that any small business can take advantage of.
"Jisp provides a 400% increase on the average basket spend through our home delivery and click & collect services, so we look forward to building stronger relationship with TLM to increase sales for all convenience stores across the UK."