£300m in grant funding for sales of electric vans, taxis and motorcycles to boost drive to net zero
government claims success in the UK's electric car revolution leads it to refocus plug-in grant funding to encourage other vehicles to 'charge up and go green'
part of government's zero-emission travel plans, already supported by electric car tax incentives and £2.5bn investment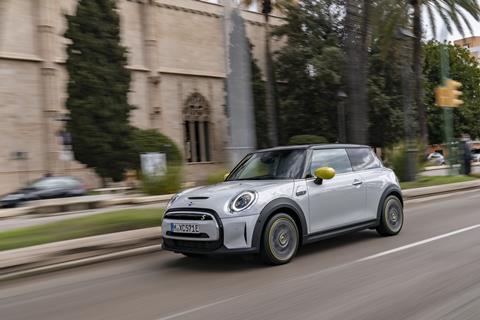 A decision by the government to scrap the plug-in car grant with immediate effect has been slammed by the automotive industry and motorists organisations.
The government announced it was closing the plug-in car grant scheme to new orders as it refocuses its attention towards the main barriers to the electric vehicle transition, including expanding the public chargepoint network.
The plug-in car grant has been attributed with kickstarting the UK's electric car revolution and supporting the sale of nearly half a million electric EVs.
Sales of fully electric cars have grown from less than 1,000 in 2011 to almost 100,000 in the first five months of 2022 alone.
Battery and hybrid EVs now make up more than half of all new cars sold and fully electric car sales have risen by 70% in the last year, now representing one in six new cars joining UK roads.
Mike Hawes, chief executive of the Society of Motor Manufacturers and Traders (SMMT), said: "The decision to scrap the plug-in car grant sends the wrong message to motorists and to an industry which remains committed to government's net zero ambition.
"While we welcome government's continued support for new electric van, taxi and adapted vehicle buyers, we are now the only major European market to have zero upfront purchase incentives for EV car buyers yet the most ambitious plans for uptake.
"With the sector not yet in recovery, and all manufacturers about to be mandated to sell significantly more EVs than current demand indicates, this decision comes at the worst possible time. If we are to have any chance of hitting targets, government must use these savings and compel massive investment in the charging network, at rapid pace and at a scale beyond anything so far announced."
Sue Robinson, chief executive of the National Franchised Dealers Association (NFDA), which represents franchised car and commercial vehicle dealers in the UK, added: "The decision to close the plug-in car grant (PICG) is exceedingly disappointing as it will, without doubt, heavily disincentivise EV adoption across the UK and has the potential to derail the positive progress the automotive sector has made towards decarbonising transport. This move sends the wrong message to consumers and will ultimately harm less affluent families seeking a transition to a cleaner method of transport.
"The PICG existed as a highly effective and highly utilised financial incentive to support UK motorists in their transition to electric. The grant cut will now expand the disparity between regions even further, as we understand that the initial cost to an EV still remains to be the key barrier to entry, with the majority of current EV owners home charging their cars overnight.
"Although the market share of electric vehicles is continuing to grow at an impressive rate, it is premature to remove this vital support mechanism and risks the UK falling behind other G7 nations in reaching their challenging net-zero targets.
"The NFDA has already spoken with the Department for Transport to outline our concerns regarding the continued descaling of government subsidies for EVs and we strongly encourage our members to contact us if they require any assistance or clarification."
RAC head of policy Nicholas Lyes said: "The UK's adoption of electric cars is so far impressive but in order to make them accessible to everyone, we need prices to fall. Having more on the road is one important way of making this happen, so we're disappointed the government has chosen to end the grant at this point. If costs remain too high, the ambition of getting most people into electric cars will be stifled."
However, the government said it has always been clear the plug-in car grant was temporary and previously confirmed funding until 2022-23. Successive reductions in the size of the grant, and the number of models it covers, have apparently had little effect on rapidly accelerating sales or on the continuously growing range of models being manufactured.
Due to this it is now refocusing funding towards the main barriers to the EV transition, including public charging and supporting the purchase of other road vehicles where the switch to electric requires further development.
A total of £300m in grant funding will now be refocused towards extending plug-in grants to boost sales of plug-in taxis, motorcycles, vans and trucks, as well as wheelchair accessible vehicles.
The shift in focus will also help allow government funding to target expanding the public chargepoint network, helping to eradicate 'range anxiety' and ensure the transition to zero-emission transport is easy and convenient for all drivers across the UK. The government says it has already committed £1.6bn to building the UK's public chargepoint network.
All existing applications for the grant will continue to be honoured and where a car has been sold in the two working days before the announcement, but an application for the grant from dealerships has not yet been made, the sale will also still qualify for the grant.
Transport minister Trudy Harrison said: "The government continues to invest record amounts in the transition to EVs, with £2.5bn injected since 2020, and has set the most ambitious phase-out dates for new diesel and petrol sales of any major country. But government funding must always be invested where it has the highest impact if that success story is to continue.
"Having successfully kickstarted the electric car market, we now want to use plug-in grants to match that success across other vehicle types, from taxis to delivery vans and everything in between, to help make the switch to zero emission travel cheaper and easier.
"With billions of both government and industry investment continuing to be pumped into the UK's electric revolution, the sale of electric vehicles is soaring.
"We are continuing to lead the way in decarbonising transport, with generous government incentives still in place, while creating high-skilled jobs and cleaner air across the UK."
She said the government's measures to support the uptake of electric cars over the past decade had helped to exceed electric car projections, with 39,000 new EV registrations in March 2022 – more than in the whole of 2019. Since its inception in 2011, the government's plug-in car grant has provided over £1.4bn and supported the purchase of nearly half a million clean vehicles.
A new public evaluation report has also been published today, highlighting that while the plug-in car grant was vital in building the early market for electric vehicles, it has since been having less of an effect on demand, with other existing price incentives such as company car tax, continuing to have an important impact. The report also found the plug-in van market will benefit from grant incentives more to support businesses and their fleets in making the switch.
While benefitting from significantly lower running and refuelling costs – as low as 2p per mile, EV drivers can also expect to see a surge in cheaper, more reliable and quicker public chargepoints, as the government delivers its commitment to install 10 times more on-street chargers by 2030.
Since 2020, the government has committed £2.5bn to plug-in vehicle grants, infrastructure and the wider transition to electric vehicles in the UK.  The industry is further boosting the switch to greener vehicles by expanding its range of more affordable zero emission cars. A total of 24 models are currently priced under £32,000, compared to just 15 a year ago, and the cost of monthly purchase and rental schemes has fallen significantly.
Ben Nelmes, co-founder and head of policy and research at New AutoMotive, said: "The recent news that the government is cancelling the £1,500 plug-in car grant (PiCG) with immediate effect was inevitable, but it is essential that the government continues to support motorists to make the switch to electric vehicles (EVs).
"With the cost of petrol and diesel constantly rising, EVs can help lower the cost of living for British families, while also helping ensure the country stays on track to achieve its goal of net-zero by 2050.
"In place of the grant, the government should implement an interest-free loan scheme aimed at helping car-dependent families who drive the most miles purchase second hand EVs. This scheme would not only help relieve cost-of-living pressures on these families who are struggling with fuel price rises, but also facilitate a quicker transition away from petrol and diesel cars."
Jon Lawes, managing director of Novuna Vehicle Solutions, commented: "The government's withdrawal of the plug-in grant scheme signals another milestone in the UKs transition to electric. The scheme has played a significant role in boosting EV take-up, with registrations increasing by 70% last year, largely thanks to drivers taking advantage of attractive EV salary sacrifice or company car schemes.
"The withdrawal signifies there is a real need to shift the focus from uptake, to addressing barriers of EV ownership, by continuing to develop the UK's charging infrastructure. The number of required charge points already lags well behind the number of EVs on UK roads and based on the current rate of adoption this gap is only set to widen further. Coupled with the removal of the grant, there is still a risk that UK drivers and businesses don't have confidence in our infrastructure and it's therefore vital that this latest government pledge quickly translates into tangible, meaningful development of the charging infrastructure up and down the country."