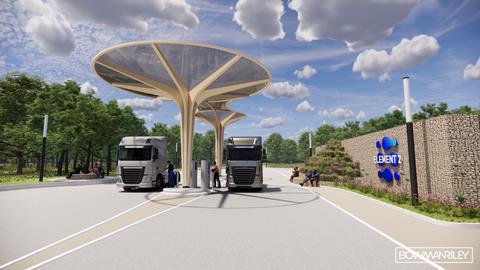 Hydrogen infrastructure specialist Element 2 has entered into a non-binding agreement with Pineapple Power Corporation, which will enable it to rapidly expand its network of comercial hydrogen refuelling stations in the UK.
Pineapple is a special-purpose acquisition company listed on the Standard Market of the London Stock Exchange (LSE: PNLP), and the agreement covers the acquisition of 100% of the outstanding shares in Element 2 in an all-share transaction.
For more than two years Element 2 - which describes itself as a driving force in the UK's energy transition - has been building a network of hydrogen refuelling stations and providing a regular supply of fuel cell-grade hydrogen to commercial fleet owners and operators, and engine-testing facilities. The company presently operates at five hydrogen refuelling locations across the UK today and is in the process of building two permanent public refuelling stations along the M6 and A1(M) motorways.
The proposed reverse take over (RTO) will enable Element 2 to rapidly expand its network of hydrogen refuelling stations and support its ambitious growth plans, accelerating the UK's transition to net-zero road transport.
Element 2's founder and CEO, Tim Harper, said: "We are excited to join forces with Pineapple Power, who share our vision for the rapid decarbonisation of UK road transport. With their support, we can expand our network of hydrogen refuelling stations, reaching more customers and supporting the growing number of hydrogen powered HGVs, vans, buses, refuse vehicles and cars arriving on UK roads."
He said the acquisition comes at a critical time, as the UK government increases its focus on decarbonisation and clean energy. "With Element 2's expertise in hydrogen and refuelling infrastructure, and Pineapple's deep experience in renewable energy and capital markets, the two companies are well-positioned to lead the charge towards a sustainable, low-carbon future.
"We are absolutely thrilled to be working with Pineapple's management team, including Dr Graham Cooley, who's substantial expertise in renewable energy and capital markets perfectly complements our own world-class team. Together, we will be able to deliver on our vision of a greener, more sustainable future for UK road transport."
Dr Graham Cooley, M&A Advisor to Pineapple Power, said: "In the UK, heavy-duty road transport will have a critical role to play in our country's decarbonisation goals. Transport accounts for around one-fifth of global CO₂ emissions of which 20% comes from trucks carrying freight. Vehicles using batteries or hydrogen fuel cells instead of diesel engines will need to make up most of new truck sales by 2040 under government plans to reduce CO2 emissions from medium and heavy-duty vehicles. As these sales build in the coming years, it becomes imperative that the refuelling infrastructure necessary to service this growing demand needs to be implemented, commencing immediately."
Claudio Morandi, chairman of Pineapple Power, commented: "We are delighted to have agreed heads of terms on this potential acquisition. During the past few months, we have reviewed numerous projects and believe the Proposed Acquisition meets our stated objective of identifying a potentially extremely valuable entity involved in the renewable energy sector and clean and green technologies."