New analysis reveals UK auto manufacturers face £90m uplift in energy bills this year as costs surge 50%.
Sector already spends £50m more per annum for energy than EU counterparts, with the UK having some of the highest electricity costs in Europe.
Industry calls for urgent action as UK's £21.2bn auto supply chain races to meet accelerated timelines for zero emission powertrain transformation.
New roadmap, 'From Full Throttle to Full Charge' sets out measures on energy, skills and funding to drive large-scale investment and support competitiveness.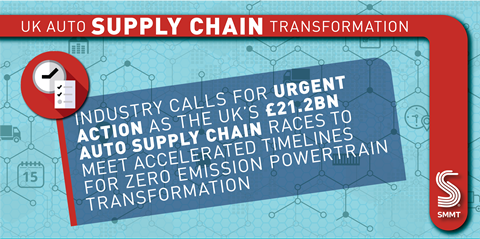 British automotive manufacturers are calling for urgent action on spiralling costs as new analysis from the Society of Motor Manufacturers and Traders (SMMT) reveals firms face a £90 million uplift in energy bills this year – equivalent to more than 2,500 automotive jobs – as costs surge by 50%.
The SMMT estimates that UK electricity prices are the most expensive of any European automotive manufacturing country and 59% higher than the EU average, meaning that last year, UK manufacturers could have saved almost £50m on energy costs if they were buying in the EU rather than the UK.

The news comes as SMMT sets out a fresh roadmap, 'From Full Throttle to Full Charge', with a clear vision of the sector leading the push to net zero, developing a UK automotive ecosystem which delivers both a healthy new market and competitive zero emission vehicle manufacturing capability. It says the timeframe to act is narrowing, however, with 2024 a looming milestone when EU-UK Rules of Origin get tougher and the Government's Zero Emission Vehicle Mandate kicks in.
With the UK implementing one of the most ambitious road transport decarbonisation timelines in the world, phasing out the sale of new petrol and diesel cars and vans by 2030, the urgency of action required is self-evident, stresses the SMMT.
It claims the additional cost of producing vehicles and components in the UK is putting manufacturers at a competitive disadvantage, stalling momentum at the very time the sector needs to make massive investments to meet accelerated timescales for zero emission transformation.
The fundamentals of the industry remain strong, as evidenced by the £4.9 billion publicly committed to UK vehicle production in 2021, following the signing of the EU-UK TCA. Most of this investment, however, has been made by large manufacturers and, moreover, since March and war in Ukraine, energy prices have surged at the same time as battery producers and the sector must urgently accelerate and broaden this investment to SMEs across the supply base.
The report reveals the scope and scale of a broadened UK automotive supply chain, including the contribution of industries which supply into automotive such as steel, plastics and paint. At stake in the transition are the 123,500 jobs supported in every region of the UK, across some 5,000 firms, which turnover a collective £21.2 billion every year, export products worth £7 billion and deliver £5.7 billion direct to the economy.
For many long-established component segments such as engine and exhaust producers and their sub-suppliers, the transition to electrification presents major challenges. While some companies are already on the journey, many risk being left behind as the jobs and skills involved with internal combustion engine (ICE) technology may not be transferrable. At least 22,000 jobs, £11 billion of turnover and £2 billion GVA in the UK is currently reliant on ICE-based technologies.
There are, however, significant opportunities for those able and enabled to transition, for example, in batteries, motors and power electronics. SMMT's roadmap sets out the wide range of measures, covering industrial and market transformation, which must be implemented if the opportunities are to be grasped.
In his speech at the automotive industry's annual Summit today (June 28), Mike Hawes, SMMT chief executive, said: "From Covid impacts to component shortages, supply chain disruption to trade uncertainty, and regulatory change to rising inflation, the challenges facing this sector are immense. Nevertheless, addressing the UK's high energy costs is the industry's number one ask.
"Help with energy costs now will help keep us competitive and be a windfall for the sector, stimulating investment in innovation, R&D, training – all reinvested in the UK economy. With the right backing this sector can drive the transition to net zero, supporting jobs and growth across the UK and exports across the globe.
"Our plan, From Full Throttle to Full Charge, sets out how industry can work with government to build a UK automotive ecosystem fit for a zero emission future. If there is the will, the effort and the action from government, they will find it matched by that of the UK industry in investment and competitiveness."
The report highlights the critical role automotive plays in every region of the UK, delivering well paid, highly skilled jobs, supporting communities and driving the wider economy. More than a quarter (28.2%) of the automotive supply chain is based in the West Midlands alone, with 13.3% in Yorkshire and Humber and 11.8% in the North West. With the right conditions the industry has a unique potential to be a driver of new jobs, growth and decarbonisation.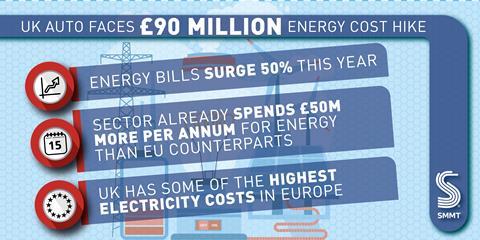 Five crucial UK Automotive asks:
Support businesses facing high energy costs as they transition to net zero, including the provision of short-term support; making UK automotive equivalent to Energy Intensive Industry status; maintaining automotive Climate Change Agreements; and delivering low cost, zero carbon electricity and a national supply of hydrogen.
Deliver a globally competitive business environment for the sector, by expanding the scale and scope of the Automotive Transformation Fund to boost supply chain transformation and adaptation.
Create a globally competitive investment environment, extending the super deduction or introducing a generous successor, and enhancing R&D tax credits.
Ensure full implementation of the EU-UK Trade and Co-operation Agreement and prioritise UK automotive in trade policy and future free trade agreements.
Focus on current and future skills needs via reform to the Apprenticeship Levy and a dedicated long term automotive skills strategy.