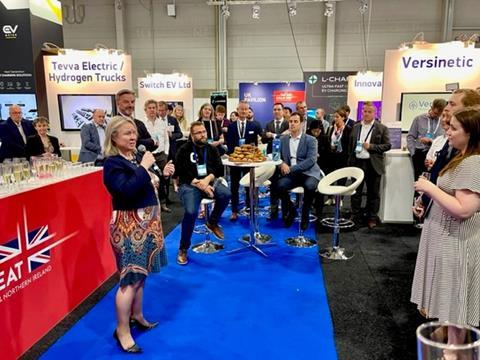 Some of the UK's most innovative companies in electric and zero emission vehicle technology will today attend one of the world's largest EV events, the Electric Vehicle Symposium and Exhibition (EVS35) in Oslo.
The trade mission, with a dedicated UK Pavilion organised by the Society of Motor Manufacturers and Traders (SMMT) in collaboration with the Advanced Propulsion Centre (APC), is set to boost trade and investment into the UK automotive sector, with the Prime Minister's Trade Envoy to Norway and Iceland, Felicity Buchan MP, joining senior industry executives to showcase British expertise in designing and deploying low-carbon mobility solutions.
SMMT and APC are joined at EVS35 by the Department for International Trade (DIT) and Innovate UK, who aim to deliver zero-emission transport while driving new, clean-tech jobs and greater trade.
The UK claims to be one of the leaders in this transition, with upstream R&D as well as downstream development and engineering of the parts, components, powertrains and the vehicles themselves. The UK could also be the first major market to go electric, phasing out the sale of new pure petrol and diesel cars and vans by 2030 with a Zero Emission Vehicle mandate to drive this development.
Manufacturers already committing at least £10.8 billion to EV and battery R&D and production in the UK while British factories have produced a quarter of a million electric cars, vans, buses and trucks since 2011. In April, more than one-in-four (26.4%) cars produced by UK car makers was electrified, boosted by battery electric vehicle (BEV) output up 38.2%, which the SMMT estimates means one-in-10 cars made was powered purely by electricity.

The SMMT says the UK market for these models, meanwhile, is one of the largest in Europe, behind only Germany in terms of new registrations last year. There are now more than 150 models of plug-in cars and vans on sale in Britain and, while globally BEV sales doubled in 2021, the UK had its best ever year with more electric cars registered than over the previous five years combined. BEV registrations have risen more than 70% to 92,512 this year and, by year end, they are expected to take 16.8% of the UK car market - equivalent to one in seven sales.

Mike Hawes, SMMT chief executive, said: "We are at a pivotal moment on the road to zero emissions. Countries are competing for investment to drive production of the next generation of clean transport solutions and the UK must be in the vanguard. The UK has advantages over its rivals as a place to do business, with a highly productive workforce, some of the best R&D minds and universities globally and close collaboration between its automotive sector and government, not to mention strong consumer and business demand for the latest vehicles. EVS35 provides the perfect platform to demonstrate these capabilities to the world and strengthening our global trade and investment links will only bring mutual success."
Philippa Oldham, director of Stakeholder Engagement at Advanced Propulsion Centre, said: "We're pleased to be working with SMMT to showcase why Britain is a world leader in automotive technology and an ideal place to invest.
"Electrification is shaping the future of automotive, and as one of the most important segments of the UK's low-carbon economy it is vital that the sector continues to build global alliances to secure its future in the years to come. The UK Pavilion at EVS35 provides the perfect platform for UK businesses to engage with some of the leading players in electric vehicle technology, helping to demonstrate the value they bring to the wider industry and create new opportunities in the process.
"The UK has a valuable role to play in the continued evolution of automotive and clean technologies from British businesses will be critical amid the push to net zero."
Felicity Buchan MP, said: "As the Prime Minister's Trade Envoy to Norway and Iceland, I am delighted to be attending the EVS35 to support British exporters of electrical vehicles. The UK is leading the world in our transition to a green economy, particularly in our automotive sector where nearly £11 billion has been committed by manufactures in R&D funding for EVs and battery production in the last decade. With our Zero Emission Vehicle mandate by 2030, EVs are a critical part of our path to net zero and I am proud to be supporting companies that will help us achieve that."
Sue Wilthil, DIT senior market adviser, Trade, said, "As part of the Government's focus on greening our economies and reducing global emissions, DIT Oslo are delighted to support UK EV companies in the export of their technologies and services to Norway. Norway is a market which is leading the world in the introduction of electric and hybrid vehicles and not only provides a potential market for UK exports but is also a market from which the UK EV sector can learn a great deal."