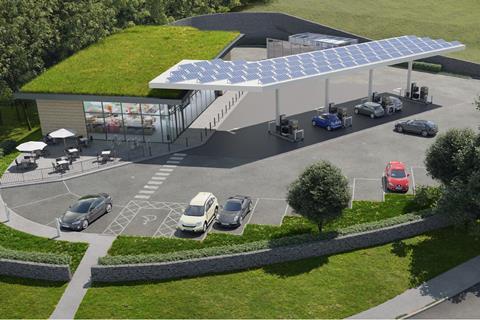 Top 50 Indie Brookfield Group has won a planning appeal against a council's refusal of permission for roadside services near Skipton in North Yorkshire.
In early 2021 Brookfield Group applied for planning permission for a roadside services facility comprising a petrol filling station, electric vehicle charging, car wash and ancillary retail kiosk, alongside parking, servicing area and access arrangements, on land between the A59 and Gargrave Road, east of Gargrave Roundabout.
Early last year Craven District Councillors refused permission on several grounds despite a recommendation from their own planning officer that the application should be approved.
Councillors said reasons for refusal were:
the scheme would damage the open nature of the green space;
it would have a detrimental impact on highway safety;
it had no plan to enhance biodiversity off site, as required in the Local Plan; and
it failed to assess the impact on local retail.
In her report the planning inspector Helen Hockenhull said the claims about green space and highway safety were not supported by the reports submitted with the planning application, and that with a floorspace of less than 300sq m the retail element was below the threshold at which such an assessment would be required.
With regard to enhancing biodiversity off site, Brookfield was able to demonstrate that it had offered such a scheme but this had not been considered by the councillors.
The inspector said none of the grounds for refusal had been sufficient and gave conditional approval for the scheme.
She stipulated that a biodiversity plan would have to be in place before any construction was allowed, and that no site clearance or demolition works could be carried out between the 1st March and the following 31st July unless a detailed bird nest survey by a suitably qualified ecologist has been carried out immediately prior to clearance and written confirmation had been submitted to the local planning authority to demonstrate that no active bird nests were present.
She also ruled that the site could not commence business until it had two electric charging points in service.