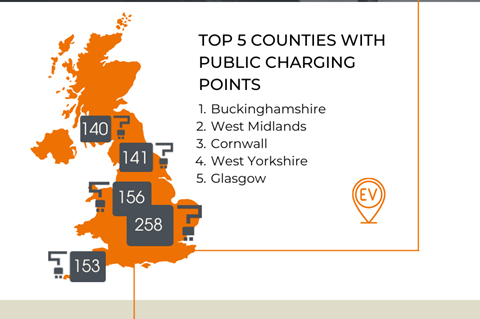 Buckinghamshire has been named the best place to own an electric vehicle (EV), based on the number of public charging points available in the county, but the West Midlands tops the scale for the number of registered EVs, according to solar, battery and EV charging point specialist Joju Solar.
With London and the Southeast of England identified as early adopters of EVs and charging points, Joju Solar - which describes itself as an award-winning pioneer in renewable energy sources - says concerns have been raised that without an increase in public charging facilities and local authority-led schemes, the acceleration of EV technology will be confined to the south.
Reviewing local authority data, the company has ranked the top five UK counties based on the number of EV public charging points available. It also interpreted government data to reveal which county currently has the most EV vehicles registered in its jurisdiction.
Topping the list with the most public charging stations is Buckinghamshire. The county currently offers 258 public charging stations to the 6,719 electric vehicles registered under its domain.
Despite Buckinghamshire offering the most public charging points in the UK, the West Midlands is the county that currently has the most electric vehicles registered, with just under 19,000 EVs listed.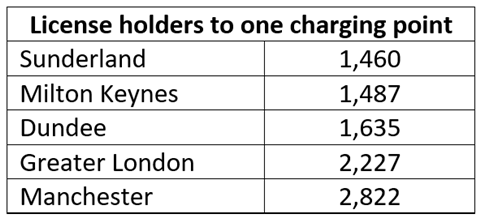 Further analysis from Joju Solar highlighted the discrepancy in the number of electric vehicles registered within UK counties by showing the number of registered licence holders for every one public EV charging point.
Sunderland is currently the county most able to meet demand for EV charging, offering one public charging point for every 1,460 licence holders.
Dr Christian Jardine, founding member of Joju Solar, said: "We have witnessed a rapid increase in the appetite for EV vehicles and charging accessories. This is an extremely positive shift towards a more eco-conscious future. With the impending ban on petrol and diesel vehicle sales, consumers need to be able to access reliable and convenient charging points and whilst we are a source for at-home charging facilities, we urge local authorities to prioritise the installation of as many public charging stations as possible, to meet the rising demand.'