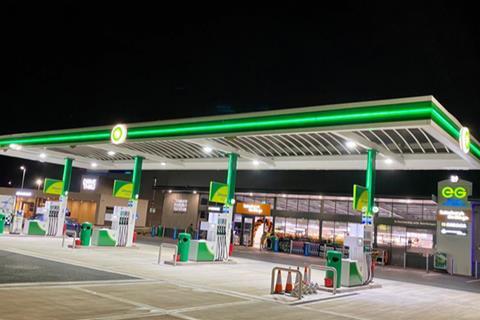 The list of sites which could potentially be sold by EG Group to enable its owners to secure their deal to buy Asda, has been revealed today in a more detailed version of the original positive response announced on May 5 by the Competition Markets Authority (CMA).
The 'proposed divestment' list – which has prompted a feeding frenzy within the forecourt sector as buyers seek to land themselves some leading-edge sites - includes EG Group sites in 36 areas around the country (see below). The list features developments at Forfar in Scotland, Ashington in Northumberland, and new-to-industry site Rushden Services, a £2.7m development in Northamptonshire, which opened earlier this year.
An auto-LPG site in the Bridge of Dee in Aberdeen, also features on the list.
Earlier this month the CMA announced that Zuber and Moshin Issa and TDR C had jointly offered undertakings, which involves divesting 27 EG Group Limited petrol filling stations. The CMA considered that "there are reasonable grounds for believing that the undertakings offered jointly by Mr Zuber Issa, Mr Mohsin Issa and TDR Capital LLP, or a modified version of them, might be accepted by the CMA under the Enterprise Act 2002, and that it is considering the offer".
The CMA explained that the divestment would occur by way of a sale of the freehold or, subject to the CMA's approval, the grant of a leasehold title with a minimum 25-year term (which may be subject to a break clause at 15 years exercisable at the option of the purchaser) (where the Issa Brothers and TDR hold the freehold interest in the site), or by way of an assignment of a leasehold interest (the Proposed Undertakings).
The CMA "also believes, at this stage, that the Proposed Undertakings may be capable of ready implementation, in particular in light of the option to divest alternative and, if needed, additional sites".
The CMA said the divestment sites are stand-alone businesses and the parties have provided evidence that there is high demand for petrol stations (as shown by a number of recent acquisitions of petrol stations), and that there are several potential suitable purchasers specifically for the divestment sites currently offered by the Issa Brothers and TDR.
The CMA now has until July 1, 2021 (pursuant to section 73A(3) of the Act) to decide whether to accept the undertakings, with the possibility to extend this timeframe (pursuant to section 73A(4) of the Act to 26 August 2021) if it considers that there are special reasons for doing so.
A spokesperson for the Issa Brothers and TDR Capital, said: "The CMA have undertaken a robust investigation and we are confident that the 27 sites identified will address the local competition concerns in each area. We will continue to work constructively with the CMA as they work through the detail of the proposed divestitures. We have already received significant interest in all the sites from potential buyers, demonstrating the strong growth potential of our forecourts and the liquidity in the market. We do not anticipate any material impact on operations or employees at the affected sites as a result of this process."
Proposed divestment list:
1 Ashington - EG Ashington
2 Burscough - EG Burscough
3 Calcutt - EG South Marston
4 Churchill - EG Churchill
5 Dorcanway - EG Kingshill, Rodbourne, EG South Marston
6 Dragon - EG Dragon
7 Eccleshall Road - EG Lammascote
8 Egremont - EG Egremont
9 Johnadamsway - EG Johnadamsway
10 Kingshill - EG Kingshill
11 Lakeland - EG Lakeland
12 Lammascote - EG Lammascote
13 Maple - EG Maple
14 Northerngateway - EG Northerngateway
15 Prestonway - EG Prestonway
16 Regatta - EG Regatta
17 Rodbourne - EG Rodbourne
18 Regents Park - EG Tibicar
19 Rylands - EG Tibicar
20 Scottlane - EG Scottlane
21 South Marston - EG South Marston
22 Tibicar - EG Tibicar
23 Thinfordnorth - EG Thinfordnorth
24 Turnpike - EG Turnpike
25 Blackpool - EG Blackpool
26 Wootten Bassett - EG Kingshill
27 Pentre - EG Pentre
28 Fourcross - EG Fourcross
29 Weld Blundell - EG Reliance
30 Thieveslane - EG Thieveslane
31 Swindon2 - EG Rodbourne, EG South Marston
32 Lancaster - EG Tibicar
33 High Wycombe - EG Maple, EG Turnpike
34 Swindon - EG Kingshill, EG Rodbourne
35 Forfar - EG Forfar
36 Rushden - EG Rushden
Auto-LPG site: Bridge of Dee - EG Don