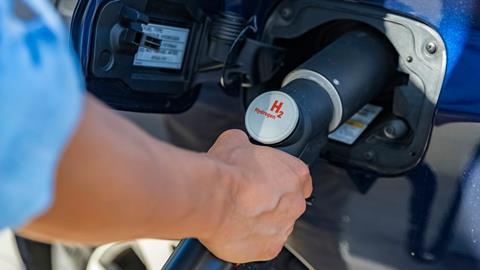 A company planning to produce hydrogen from waste plastic has signed a letter of intent to supply hydrogen for Element 2's proposed nationwide network of hydrogen refuelling stations.
Peel NRE, part of Peel L&P, is proposing to develop a hydrogen refuelling station, built by Element 2, which will take hydrogen from its plastic to hydrogen facility at Protos, the company's strategic energy and resource hub in Cheshire.
This will be able to supply up to one tonne of hydrogen per day, sufficient to fuel approximately 40 HGVs, 500 buses or 2,500 cars per day. There are also plans to develop a hydrogen refuelling station at Peel NRE's planned plastic to hydrogen facility in North Clyde, near Glasgow.
The plastic to hydrogen facility at Protos is the first in the UK to use technology developed by Powerhouse Energy Group plc, with Peel NRE planning to roll out the technology across the UK. The plant will take non-recyclable plastics, destined for landfill, incineration or export overseas, and use them to create hydrogen. The hydrogen will be used as fuel for buses, HGVs, refuse collection vehicles and cars.
Element 2 is looking to establish a network of hydrogen refuelling stations across the UK, with plans to deliver 2,000 by 2030, and is looking at further potential sites with Peel NRE.
Richard Barker, development director at Peel NRE, said: "Hydrogen is set to play an important role in our journey to net zero, particularly in hard to decarbonise sectors like transport. Protos is the first of many planned plastic to hydrogen facilities in the UK and co-locating refuelling stations will help to kick start the infrastructure needed to support the rollout of hydrogen vehicles."
Brendan Bilton, chief technology officer at Element 2, said: "Our agreement with Peel NRE to build a hydrogen refuelling station at Protos is a big step forward as we establish the UK's hydrogen infrastructure. We are a pure play retailer of hydrogen, keen to employ waste to hydrogen and the circular economy as we build hundreds of refuelling stations over the next ten years. We will deploy 800 pumps by 2027 and 2,000 pumps by 2030, helping the UK reach its target of net zero emissions my 2050.
The plastic to hydrogen facility and refuelling station are part of the Plastic Park planned at Protos. The £165m Plastic Park will cluster together a variety of plastic recycling and treatment technologies, each designed to get the most value from plastic waste. A planning application for the Plastic Park is expected later this year.