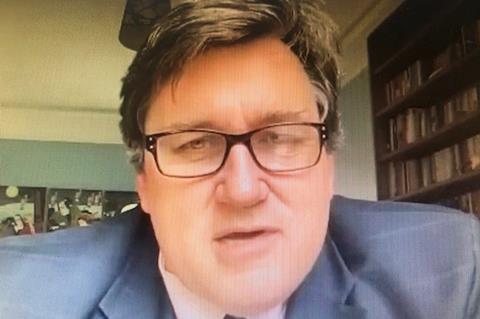 Eighty nine per cent of staff working in local shops have experienced some form of abuse, with over 1.2million incidents recorded over the past year, and Covid-related abuse emerging as one of the biggest issues facing retailers.
The shocking figures were revealed the 2021 Crime Report, launched today by the Association of Convenience Stores (ACS) during its annual Crime Seminar.
Minister for Crime and Policing Kit Malthouse was one of the speakers to address the seminar. He spoke about action the Government is taking on retail crime and violence, including ACS' work in partnership with the Home Office.
The 2021 Crime Report reveals that despite limits on customer numbers in many stores and an overall drop in the number of people visiting convenience stores during the past year of the pandemic, there have still been an estimated 1.1million incidents of shop theft recorded in the convenience sector.
ACS chief executive James Lowman said: "Over a million shop thefts and incidents of violence and abuse aren't just big numbers, each one is a crime that has a personal impact on retailers and their colleagues. For so many people in local shops to have suffered this kind of abuse, just for doing their jobs, is shocking and must not be allowed to be normalised.
"Convenience stores have been on the front line serving their communities throughout the last year, but despite this they have been the constant target of criminals, often repeat offenders, who aren't being dealt with properly by the justice system. This results in fewer retailers being willing to report crimes and less trust in the ability of the police to respond to incidents when they occur.
"We need action now to ensure that everyone, from neighbourhood police and the courts to Police and Crime Commissioners and central Government, takes crimes committed against retailers and their colleagues seriously. The upcoming PCC elections in May are an opportunity for every candidate to set out their priorities and commit to tackling this issue and supporting local shops."
Report highlights:
- Crimes committed against the convenience sector have cost £142m over the last year alone, equating to over £3,000 per store.
- Stores have also invested heavily over the last year to make their businesses safer. Over £175m has been spent by retailers on crime prevention measures like CCTV, external security staff and intruder alarms. Taken together with the cost of crimes committed, there is effectively a 5p crime tax on every transaction in stores.
- One of the biggest changes facing convenience stores over the last year has been how to adapt their stores to keep customers and colleagues safe. This has resulted in stores investing in Perspex screens, new technology to manage customer numbers, and a range of other social distancing measures.
- While these changes have been welcomed by the vast majority of customers, Covid-related abuse has become one of the biggest issues facing retailers, and is now one of the top triggers of violence in store.
- Of those who responded to the 2021 Crime Survey, 65% of respondents have seen Covid-related threats to staff, with the most common causes of Covid-related abuse being:
Reminding customers to wear face coverings
Reminding customers of social distancing measures
Queueing outside stores
Requesting removal of face coverings to check ID
- Over the past year, there have been around 40,000 incidents of violence against people working in convenience stores. Of these, over one in four involved a weapon, such as a knife, hammer, axe or syringe.
This year's Crime Report launches ahead of the 2021 Police and Crime Commissioner elections. After just 18 of the 42 current PCCs included any reference to business crime in their Police and Crime Plans, ACS has called on all prospective PCCs to take action in four areas to support local shops:
Create police-led business engagement teams with dedicated resource to engage with the retail sector
Provide funding for 'Second Chance' Programmes to deal with repeat offenders suffering from addiction issues
Use Community Remedy Powers to ban repeat offenders from local shops
Provide better support for victims of violence and abuse in local shops