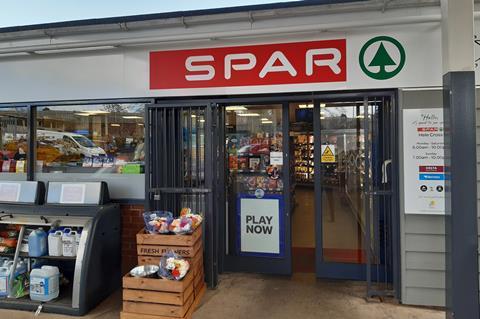 Forecourt and convenience store owners James and Julie Prescott have resumed their relationship with Spar after a 20-year break.
The couple took over the Esso petrol station and Spar forecourt store at Hele Cross in Torquay, Devon, 24 years ago. Initially, the store was unbranded, then they moved to Spar before switching supplier after an approach from Palmer and Harvey.
Over the years, the forecourt store moved under the Mace fascia and later Nisa before becoming unbranded again. Then last year, James was talking with Nick Blight from Blights Motors in Bideford, who was considering changing his fuel supplier to Esso and cited the qualities of his long-standing relationship with Appleby Westward, the regional distribution company for Spar stores.
"Everyone associated with Spar has been amazing and their enthusiasm and dedication has been exceptional," said James.
"Working with Appleby Westward is a proper partnership, not a dictatorship and we are delighted to have the Spar name over the door once again."
The 950sq ft store has been refurbished and new chilled units installed throughout. "Our customers have been extremely positive about the changes we have made and are happy with the quality and range on offer," said James.
"The whole counter area has been changed and looks almost like a cocktail bar. Customers are still getting used to the Spar own-brand product range and we have been trying all sorts of new lines from Spar sweets to champagne."