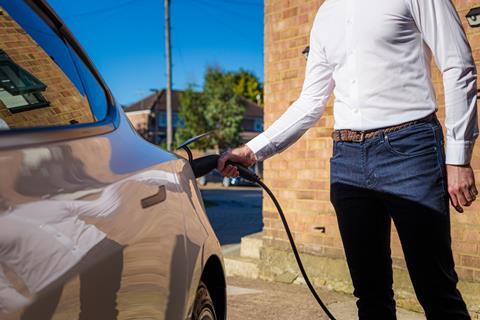 A new survey from EV charging and smart tech company Indra reveals that almost 50% of UK drivers would buy an EV if they could use it to help power their home.
Mike Schooling, founder and chief product officer at Indra, explained: "Bidirectional charging technology takes savings on transport costs to a whole new level, enabling EV drivers to not only capitalise on cheaper energy tariffs and lower-carbon energy, but also discharge surplus energy from their vehicles to either power their homes or even trade it back to the grid at peak energy times, when prices are typically at their highest."
He said Indra has been leading the charge in the development of this revolutionary technology since 2018, when it developed the first proven bidirectional charger as part of a large-scale trial known as Project Sciurus. Those trialling the technology have repeatedly achieved savings of around £100-200 on their monthly energy bills.
Although the technology is not yet available outside of trials, Indra is part of a small number of businesses which have been awarded government-backed funding from the V2X Innovation Programme to help enable large-scale adoption of it.
"Bidirectional charging will fundamentally change the way we view and interact with energy and our cars and vans. EVs will effectively become mobile batteries on wheels for harnessing, storing and then using greener, cheaper energy to power our homes or sell back to the grid," added Schooling.
"In the future, we will no longer be tied to a traditional energy infrastructure, but will be able to access, trade and share energy. This means that EVs and bidirectional charging could play a hugely significant role in creating a flexible, sustainable energy eco-system and enabling the government to achieve its net zero ambitions."
Indra's survey of over 2,000 UK drivers also revealed that despite almost half (47%) worrying about the environmental impact of driving a petrol or diesel vehicle, cost remained the largest barrier to purchasing an EV, with only 30% of respondents likely to buy an electric car in the next 12 months.
The survey also revealed that many drivers believe petrol cars are the most cost-effective mode of transport over the next six-to-12 months (37%), followed by public transport (18%) and diesel engine vehicles (18%). EVs came fourth, with only 16% of those polled believing them to be the cheapest way to travel.
The research also revealed that over 59% of those surveyed over-estimated the cost for charging an EV, with some believing it could amount to £150-£200 for a single charge.