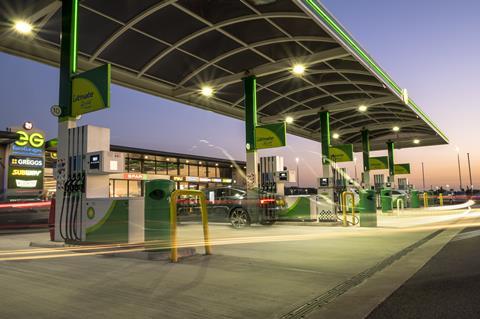 EG Group has agreed a partnership with intelligent audio communication solutions company Audiebant Media with the aim of creating a new multi-sensory advertising platform for brands to reach millions of car users at roadside retail locations across the UK.
Audiebant Media describes its technology as offering advertising surround sound, enabling brands to connect with consumers in a unique, unskippable format they can hear, see and touch all at once.
It incorporates Audio Out Of Home, Digital Out of Home and Pump Toppers, and brands can source around 370 EG Group forecourts across the UK to roll out 'fully immersive' advertising and sponsorship campaigns that can be targeted regionally and locally.
In a recent Audiebant Media trial with energy drinks brand Red Bull, the company saw a direct uplift in sales of 34% following a three-week trial.
The Audiebant Media system uses Signal Detection Theory, which dictates that messages must be different from their background in order to have an impact. The company says this is critical at a time when traditional forms of advertising are struggling to influence savvy consumers who increasingly find ways to skip or ignore ads.
Brands can supply creative assets directly to Audiebant Media to play out or alternatively, in-house audio specialists can create high-quality audio that delivers key messages with impact.
Josh Dean, commercial director, Audiebant Media, said: "As refuelling is an autopilot task, the Audie-Approach means brands can command the attention of millions of captive listeners across the UK. With an average consumer spending 4-6 minutes at the pump per visit, this unique approach offers huge untapped potential for advertising.
"Regional and hyperlocal marketing also remains tough for brands and businesses to navigate. Our approach to localised audio content means the creative is tailor-made for the area, designed with local awareness and sensitivity, which helps to drive conversion from listening, seeing and touching to making a purchase.
"With our combined experience in customer service and intelligent audio communication, we can't wait to see the potential of this one-of-a-kind partnership to put brands at the centre of the consumer psyche."
Ilyas Munshi, group commercial director, EG Group, said: "Our strategic partnership with Audiebant Media delivers a complete forecourt convenience retail 'Digital Out of Home' audio marketing platform along with pump topper advertising opportunities. EG Group is also rolling out digital screens and our partnership complements this digital strategy. The combination of Audiebant Media's innovative technology, together with our extensive network presence across the UK provides a compelling platform for various consumer brands to reach and engage new audiences."